American Impressionist Society
8th Annual Impressions: Small Works Showcase
Members Only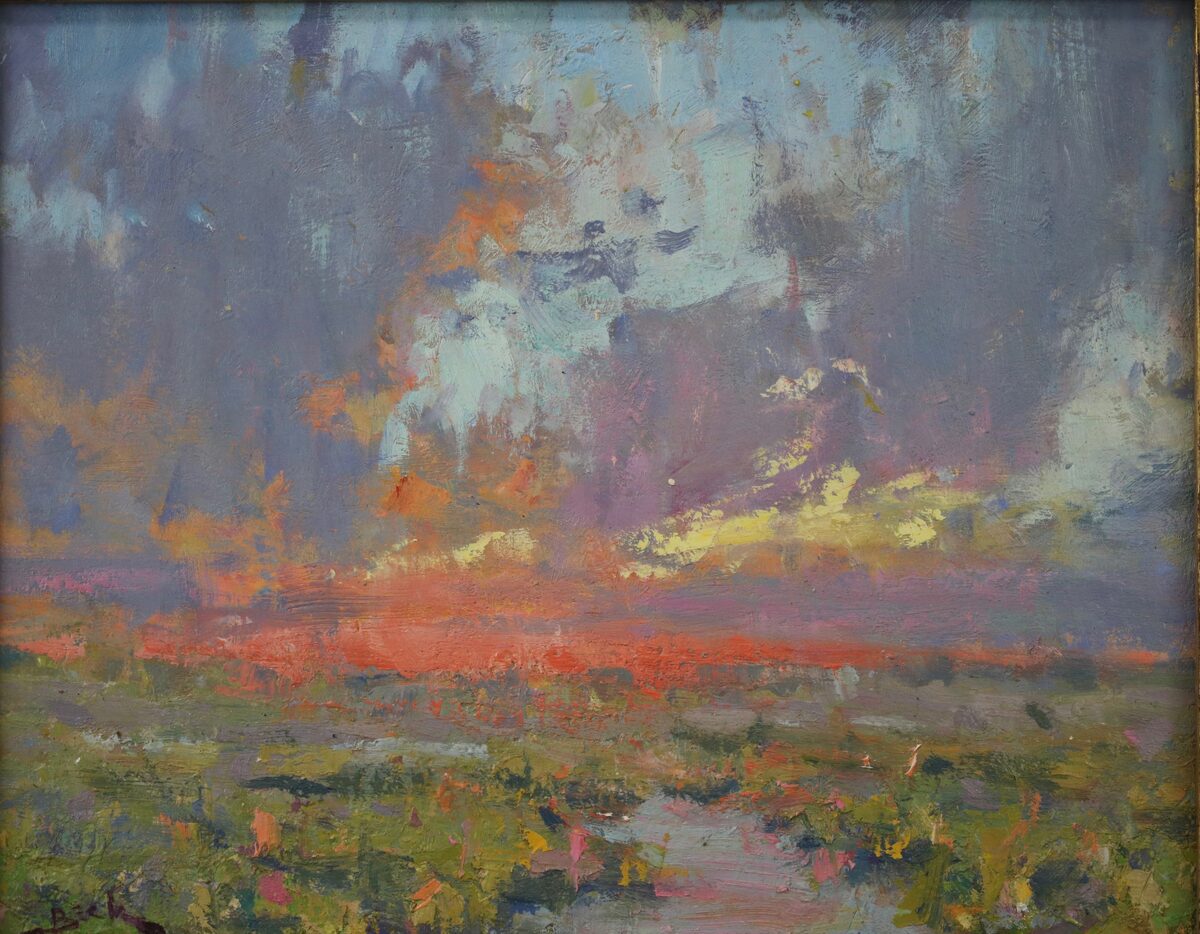 Sunset Creek by Dan Beck AISM
Open for entry on January 1, 2024.
Deadline for entry:

January 29, 2024
Venue
Anderson Fine Art Gallery
St. Simons Island, Georgia

A complete list of events/schedule will be available on the AIS website and social media platforms as soon as confirmed.

Please read carefully and follow instructions completely and accurately. There can be no exceptions.
Awards
Best of Show $4,000 Cash with other awards to be announced.
Judge of Awards
Exhibition Requirements
MEMBERSHIP


Must be a current (or new) paid member of AIS and must be a legal US resident to be eligible to enter the exhibition.
2024 AIS membership dues of $60 must be paid prior to entering.
If dues are not paid prior to the entry deadline, entry will be disqualified.

MEDIUM


Oil, Oil Sticks, Pastel, Acrylic, Watercolor, Casein, Gouache, and Egg Tempera.
No mixed media, collage, photography, digital, oil pastels, colored pencils or any other media.
No digitally manipulated work, painted giclee prints or any other type of reproductions, no manipulated or painted over photos.
Any artist whose work is determined to be in violation of this rule will be disqualified, will forfeit any awards received and will be banned from any and all AIS exhibitions for the following three years.
WORK REQUIREMENTS


Work must be original in concept and execution, impressionistic in style, and must have been completed within the last three years (2021, 2022, 2023 including January 2024).
Work done in ANY class and/or under the guidance of an instructor is not eligible for entry.
Work painted from reference photos must be created from the artist's own photographs, not from any other photo source, copyrighted or not.
Entries must not violate any copyrights.
No diptychs, triptychs or multiple panels accepted.
Entries may not have been exhibited in any previous AIS show.
Work that was entered but not accepted into previous AIS shows may be entered again as long as they meet the above requirements.
SIZE & QTY


Maximum size (excluding frame) is 192 square inches, with the maximum length on the longest side of 16 inches (example: 12 x 16=192, 12 x 12=144, 10 x 16=160 ).
MINIMUM size is 5 x 7. (12 square inches)
Three paintings may be submitted.
Maximum of one painting per artist may be accepted into the show.
FRAMING


Work must be suitably framed in a fine art gallery-quality wood frame, wired and ready for hanging.
No metal frames, gallery wrap canvases or sawtooth hangers.
Floater frames are acceptable.
Unsuitable or damaged framing will disqualify.
Repair or replacement of frame is the financial responsibility of artist.
AIS and Anderson Fine Art Gallery are not responsible for damage caused by works framed with glass. Plexiglass is recommended.
Sales Commission
Artist 60%, Anderson Fine Art Gallery 40%.
All work MUST be for sale and must be priced according to your standard pricing. Paintings that do not reflect the artist's current pricing structure may be disqualified.
No price changes will be accepted once you have submitted your entry-please check your entries for accuracy of information.
No NFS or POR.
An artist who withdraws an entry after acceptance into the exhibition shall not be eligible to enter any AIS exhibition for the two succeeding years.
Pre-sales must be completed through Anderson Fine Art Gallery. Any accepted work which is pre-sold through Anderson Fine Art Gallery MUST be included in the show. Sales commission applies.
Entry Fee
$35 for one painting, $45 for two paintings and $55 for three paintings.
Entry fee must be paid with credit card on ShowSubmit website.
Entry fees are nonrefundable whether your paintings are juried into the exhibition or not.
Entry Process
All entries must be submitted through ShowSubmit
2024 AIS Small Works Show Calendar
No exceptions can be made to the following dates.

Monday, January 1–Monday, January 29, 2024
Entries accepted at www.showsubmit.com

Monday, January 29, 2024
Deadline: Midnight Pacific time (PST). Due to the extremely high number of last-minute entries each year, we highly recommend entering well before the final deadline to avoid possible last minute issues that can arise, especially if you are not familiar with the entry system. Check the image requirements and entry instructions.


On or before February 23
Jury results will be emailed to entrants and posted on AIS website.

Monday, April 8—Saturday, April 13
Accepted work must arrive to Anderson Fine Art Gallery between these dates. Artists must provide a prepaid return shipping label. Paintings will be returned in the same box as sent. Shipping boxes such as MasterPak and Airfloat Systems are REQUIRED. Shipping instructions will be sent to accepted artists.

Saturday, April 13
Last day for accepted works to arrive at Anderson Fine Art Gallery
Opening Week Events
At Anderson Fine Art Gallery, St. Simons Island, Georgia


Tuesday, April 23–Wednesday, April 24
Two Day Workshop with Awards Judge Dan Beck AISM


Tuesday, April 23–Friday, April 26
Paint Out Check In and special painting locations


Wednesday, April 24
AIS Welcome Party


Thursday, April 25
Painting on location


Friday, April 26, Daytime
Panel discussion and painting demos

Friday, April 26, Evening
Opening Reception and Awards Ceremony

Saturday, April 27, Daytime
Drop off paintings for Wet Wall
Trolley Tour of St. Simons Island

Saturday, April 27, Evening
Wet Wall Exhibition/Awards Reception

Tuesday, May 28
Last day of exhibition


By June 28
Unsold work shipped back to artists.

June 1
Hand delivered works must be picked up by June 1 or other arrangements with Anderson Fine Art Gallery.
Liability & Agreement
All entries will be made at the risk of the entrant. Care and caution will be exercised in the handling of all art work however neither AIS nor Anderson Fine Art Gallery may be held responsible for loss or damage. Artists are responsible for insuring their work at all times - during transit and while they are on the Anderson Fine Art Gallery premises. Digital images are assumed to be accurate representations of the entrant's original artworks. Artwork that differs markedly from the submitted image will be disqualified. The artist retains copyright to his/her image(s), however, by submitting to this show, artist agrees to AIS's use of the images for publicity (including future AIS event promotion) and archival purposes. Artist agrees to abide by all rules in this prospectus. Submission of entries and entry fee, which is non-refundable, constitute agreement with all conditions set forth in this prospectus.
Questions
Additional Notification Information
Notifications will be emailed by the end of the day on February 23, 2024. We cannot respond to inquiries regarding the status of notifications before then.
Please add [email protected] to your email safe senders list.
After notifications are sent, you may view the status of your entry in your ShowSubmit artist account's Entry History. Accepted works will be notated by a green check.

If you do not receive your email, you may also view your notification letter using the View Notification link in your Entry History.

Note: Entries made prior to 2023 may not display the View Notification link.
Image and Filename Specifications
You do not need to resize or rename your image files.
Submit your original JPEG image files.
Crop out all parts of the photo that are not the actual work; do not show mat, frame, etc, only the work itself.
Image files are automatically resized to 300 dpi and 1500 pixels on the longest edge.
Image files are automatically renamed using your last name, first initial and the title of the work. e.g. Hamby_D_BeautifulDay.jpg
Additional Entry Information
You will pay for your entry by credit or debit card using our secure checkout system.
After your entry is submitted and paid for, you may log back in to review your entry, edit artist and image information, and add or substitute images up until the entry deadline (January 29, 2024.)
Entry fees are not refundable and must be submitted and paid by the entry deadline.
Entries cannot be accepted or changed after the deadline. Incomplete entries will be disqualified.
Support
For questions about the entry process or this website please contact ShowSubmit Support at [email protected]. We will get back to you between 9am and 6pm Eastern Time, Monday to Friday. You can also view the Support Center, Entry Guide, or our FAQ.