If you already have a ShowSubmit account, you may skip to Step 2.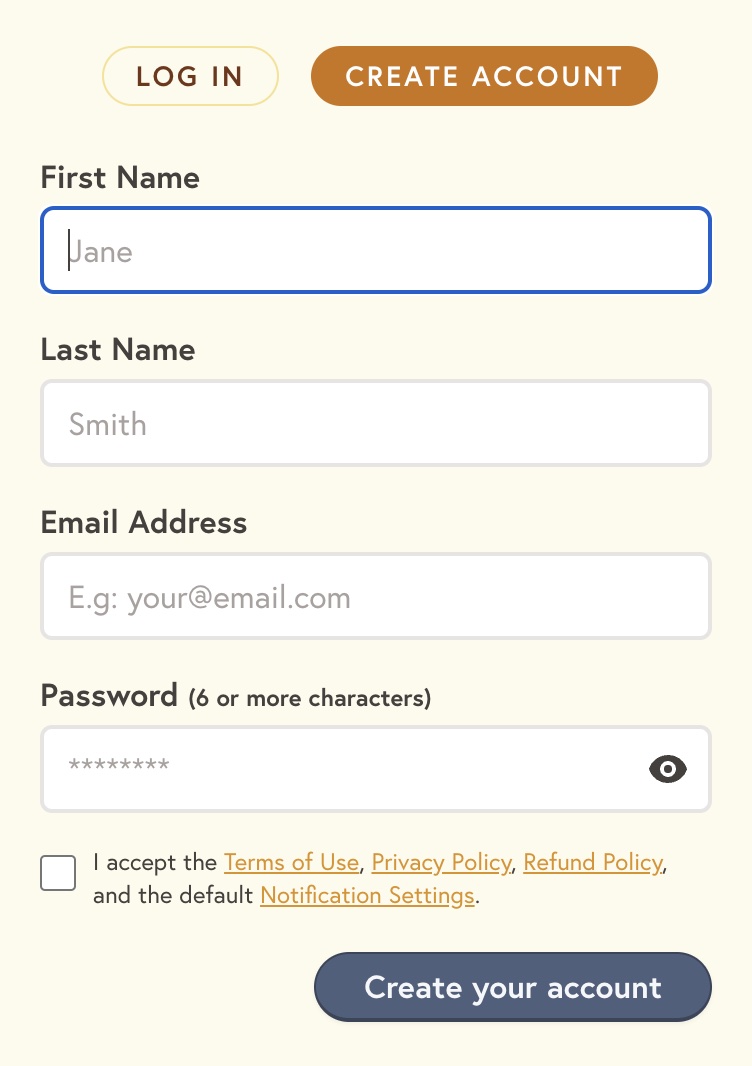 Step 1


Create an artist account
From the homepage, click on "Create New Account" or visit our Register page.
Enter your First Name, Last Name, Email Address, and choose a password.
On the next page fill out the form for your name and address etc. Then click 'Save'
You should now be logged into your new Artist Account and can skip to Step 3.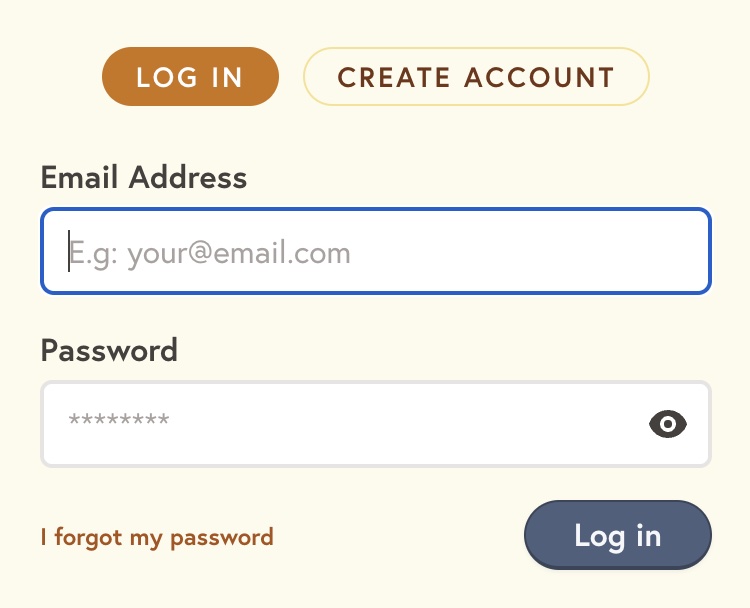 Step 2


Login
From the homepage, click on "Login" or visit our Login page.
Use your Email Address and Password you used to create your account
Note: If you forget your password, you can use the 'Forgot Password' link on the login page or visit our Password Reset page and enter your Email Address you used to create your account then click 'Send Reset Instructions'. A reset link will be emailed to you. Use the link to access your account and reset your password.

Step 3


Select an Exhibition
Find the show you would like to enter in the "Shows open for entry" list.
Click the 'Apply' button.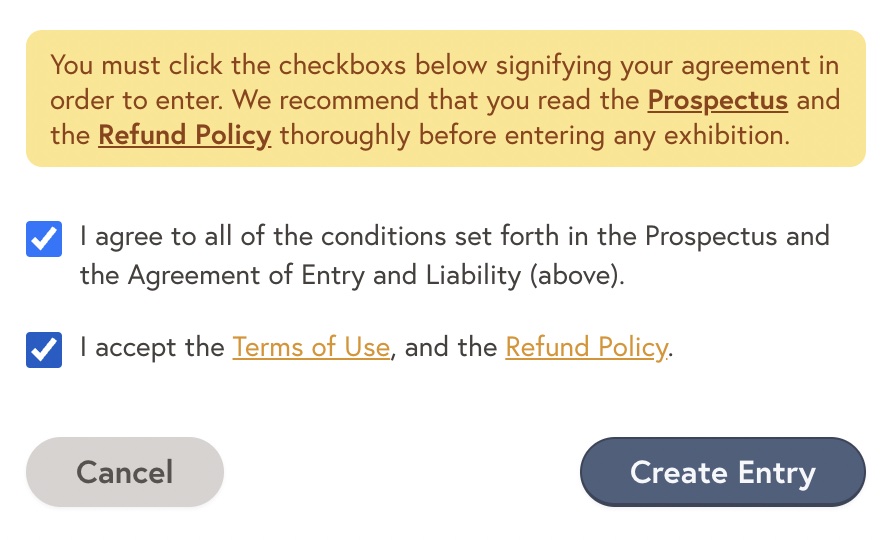 Step 4


Review the Prospectus
You may 'Download Prospectus' to read and download the prospectus in PDF format.
Please read this page carefully.
Once you have read the page in its entirety, you can go to the bottom of the page and click the checkbox to agree to all of the conditions set forth in the Prospectus and the Agreement of Entry and Liability (above).
Click 'Make your Entry'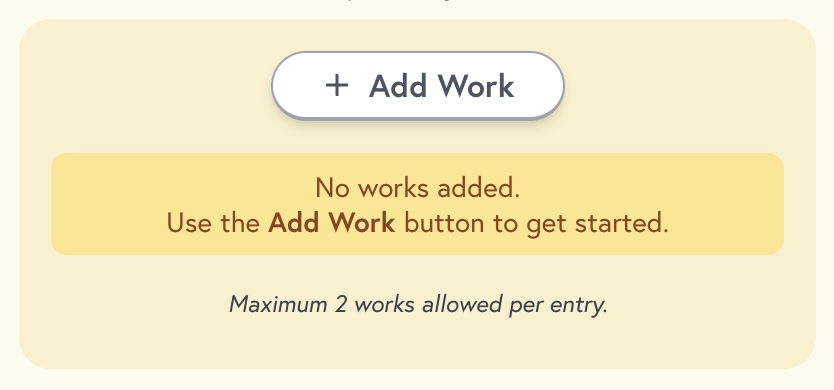 Step 5


Create your Entry
Please select your current member status.
Use the 'Add Work' button to begin entering your Work and it's details
Use the 'Select Image' to choose your image
Complete the form in its entirety (Medium, Title, Work Size (HxW), Frame Size (HxW), Price, etc.)
Click 'Upload Image'. You must have an image selected to reveal the button.

Note: There are no image requirements as ShowSubmit now resizes and renames all image files automatically, however, it is still important to upload a high-resolution JPG/JPEG image. If you get this message, you can still upload the image, but it is your responsibility to provide an image that best represents your work.
Step 6


Add more Works

Repeat Step 5 to add more works up to the maximum number of Works allowed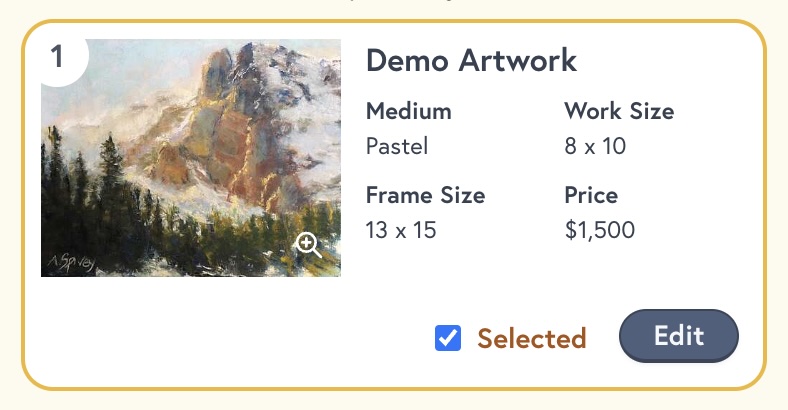 Step 7


Select your Works

You must click the 'Use' button next to your image to include the work in your entry.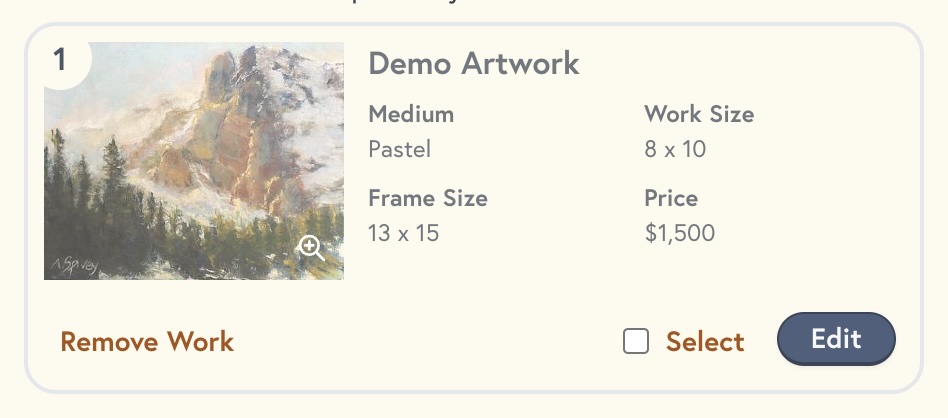 Note: You may edit your Work details by clicking the 'Edit Info' button associated with your work. Edits can be made up until the Entry Deadline. To replace an image, you must use the 'Add Work' process to add another work. You can uncheck 'Use' and 'Remove' works you do not want to inlude in your entry.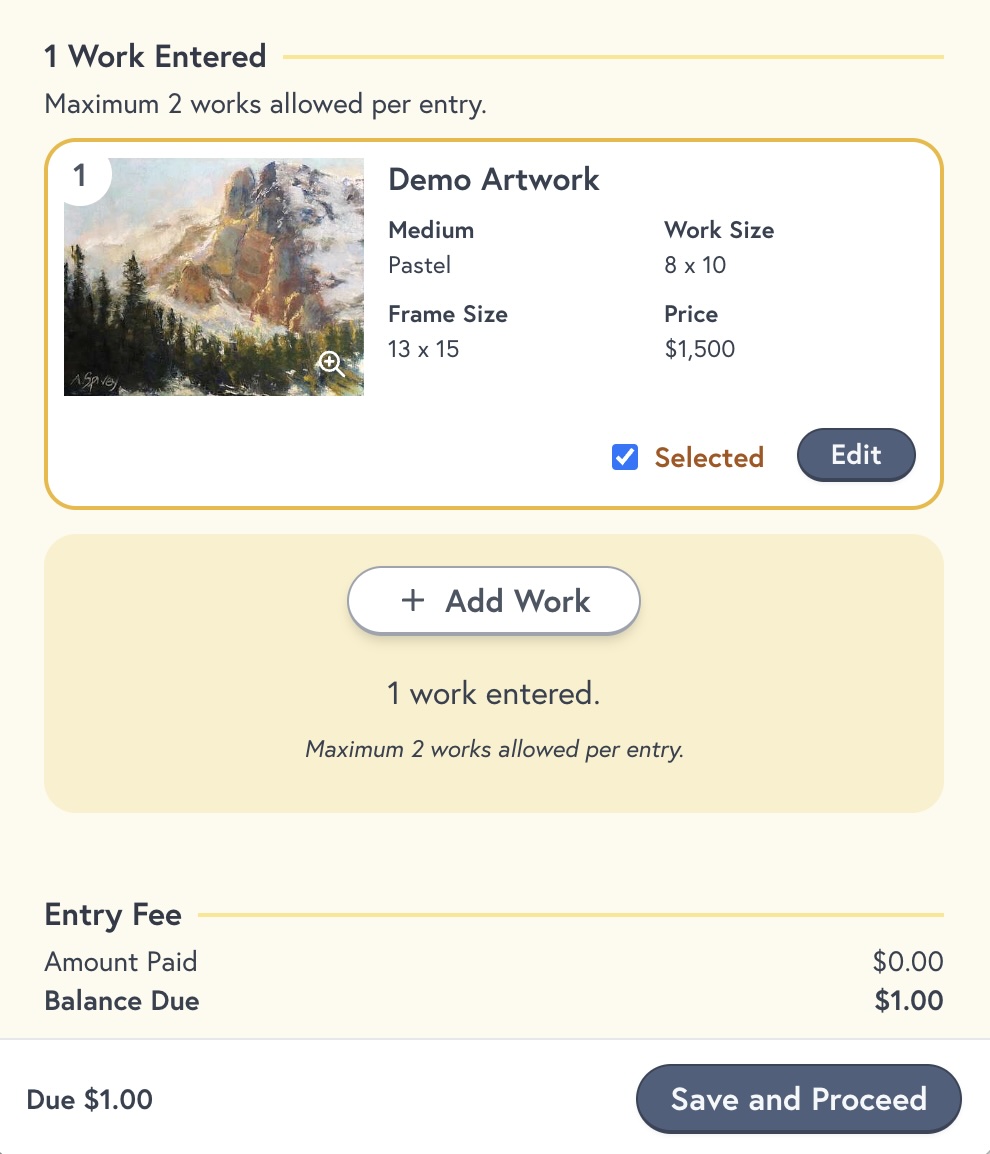 Step 8


Save your Entry

Click 'Save & Proceed' to review your entry.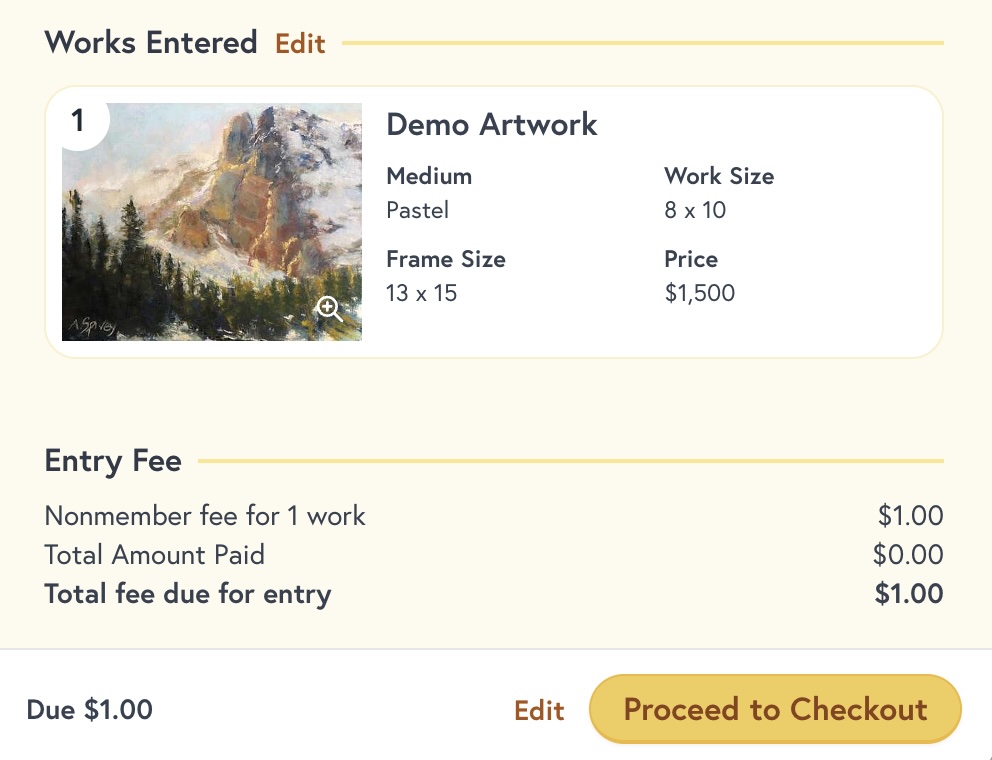 Step 9


Review your Entry

Review your entry then click on 'Proceed to Checkout' to begin the payment process.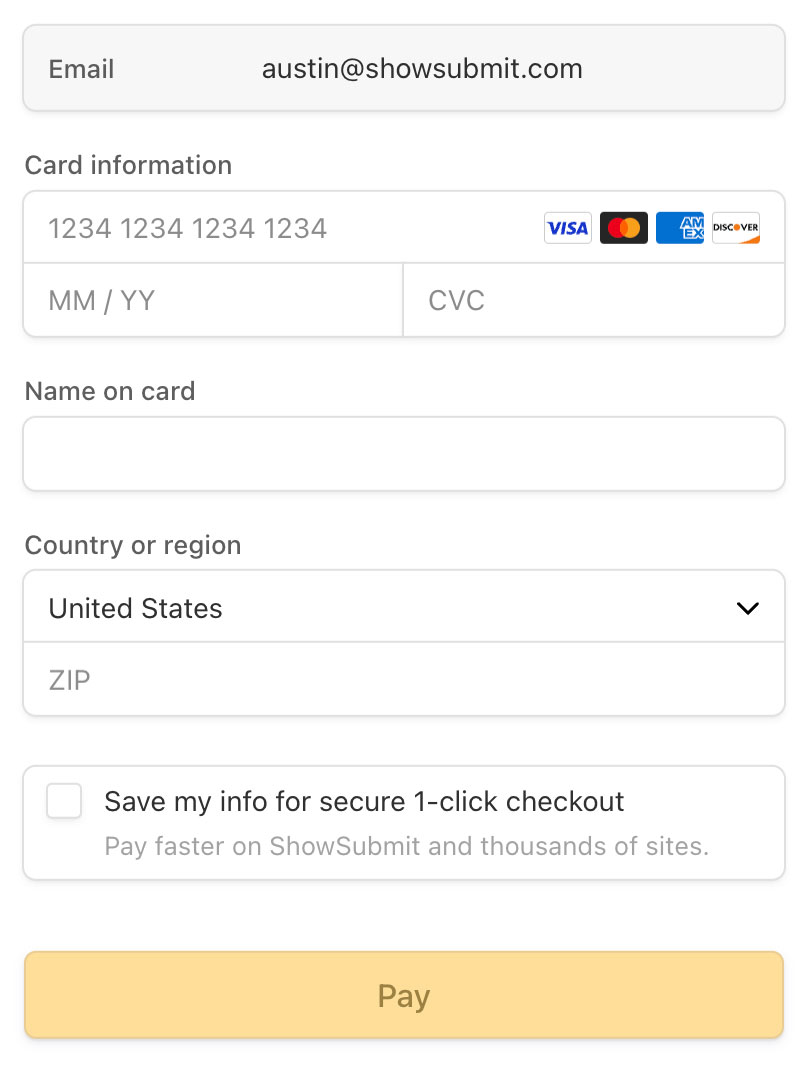 Step 10


Complete Payment
Complete the Stripe Checkout form by entering your Card Information, Name on Card, Country or Region.
Click "Pay" to process your payment.
Congratulations you have finished! You will be redirected to a confirmation page and emailed an Entry Confirmation from ShowSubmit. You will also receive a Receipt from Stripe.
You may edit your entry as many times as you'd like up until the Entry Deadline.