First Coast Pastel Society
2023 Members Show
Members Only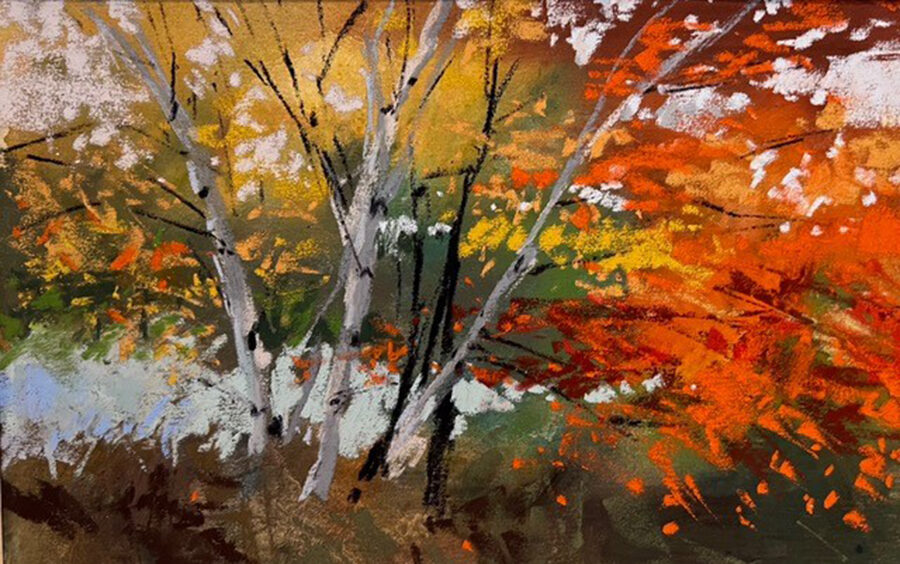 Deadline for entry was

April 24, 2023
Awards
Prizes will be awarded for First, Second, and Third Place plus Honorable Mention awards to be determined by the Judge. The prizes will consist of cash, merchandise or gift certificates from pastel suppliers and free entry into future FCPS shows.
Juror/Judge
Donna Grasso, www.donnagrasso.com
Eligibility Requirements
Check that your membership is current and that you have no outstanding fines or overdue items from FCPS library.
Be sure each entry is an original, dry pastels completed in the last two years and has not been shown in previous FCPS Juried Member Shows.
Work done under supervision (such as in a workshop or class) is not eligible.
Mixed media must be 80% dry pastel.
Paintings must be framed, under glass or Plexiglas, ready for hanging (with picture wire, no saw tooth hangers).
The maximum size of your painting can be no longer than 26" including frame on any side.
Nudes may be submitted; however, the gallery may reject any work it deems inappropriate.
An entry is a commitment to show. No paintings may be removed from the show prior to the close of the show.
Entry Fees
You may submit up to 3 entries
$25 for 1 work
$40 for 2 works
$50 for 3 works
Fees can be paid using Visa, Mastercard, American Express, Discover, Diners, JBC, Apple Pay, and Google Pay. We do not accept PayPal.
Sales
Work may be for sale; NFS is allowed.


All sales are handled by the St. Augustine Art Association with a 35% commission taken. If a FCPS member is also a member of the STAAA, the commission taken will be 30%. Please use retail pricing or list as "Not for Sale".
Notification of Acceptance
Notification of Acceptance will be sent May 2, 2023 or soon after. The juror will have juried the pieces to be entered into the show. You will be notified via email or check your 'Entry History' online at ShowSubmit.com as to which of your entries have been accepted.
Preparation and dimensions
Paintings must be framed, under glass or Plexiglas, ready for hanging (with picture wire, no saw tooth hangers). The maximum size of your painting can be no longer than 26" including frame on any side. You will receive labels with your acceptance notification. Fill them out and tape to the back of your entries.
Drop off
Drop off your entries on May 30 from 10:00am-1:00pm at the STAAA.
Shipping
Shipped paintings must arrive by Friday, May 26.


How to Ship:
Use a sturdy packing case that can be easily opened and repacked. We recommend Airfloat Systems (1-800-445-2580) www.airfloatsys.com.
Plexiglass is recommended for shipped work.
Include pre-paid return shipping label.
Include a check for $15 payable to Carron Wedlund for handling.
Attach your exhibition label to the back of your painting.
Shipped artwork must be received no later than Friday, May 30.

Ship to:
Carron Wedlund
2940 Majestic Oaks Ln.
Green Cove Springs, FL 32043
Questions
Additional Notification Information
Notifications will be emailed by the end of the day on May 2, 2023. We cannot respond to inquiries regarding the status of notifications before then.
Please add [email protected] to your email safe senders list.
After notifications are sent, you may view the status of your entry in your ShowSubmit artist account's Entry History. Accepted works will be notated by a green check.

If you do not receive your email, you may also view your notification letter using the View Notification link in your Entry History.

Note: Entries made prior to 2023 may not display the View Notification link.
Image and Filename Specifications
You do not need to resize or rename your image files.
Submit your original JPEG image files.
Crop out all parts of the photo that are not the actual work; do not show mat, frame, etc, only the work itself.
Image files are automatically resized to 300 dpi and 1500 pixels on the longest edge.
Image files are automatically renamed using your last name, first initial and the title of the work. e.g. Hamby_D_BeautifulDay.jpg
Additional Entry Information
You will pay for your entry by credit or debit card using our secure checkout system.
After your entry is submitted and paid for, you may log back in to review your entry, edit artist and image information, and add or substitute images up until the entry deadline (April 24, 2023.)
Entry fees are not refundable and must be submitted and paid by the entry deadline.
Entries cannot be accepted or changed after the deadline. Incomplete entries will be disqualified.
Support
For questions about the entry process or this website please contact ShowSubmit Support at [email protected]. We will get back to you between 9am and 6pm Eastern Time, Monday to Friday. You can also view the Support Center, Entry Guide, or our FAQ.