This call for entry has closed and the information below is for reference only.
Looking for open calls for entry? View open calls
Looking for the NRAS 46th Festival of the Arts gallery? View the online art gallery
North River Arts Society
46th Festival of the Arts
2023 Juried Art and Sculpture Exhibit, and Photography Exhibit
Open to Non-Members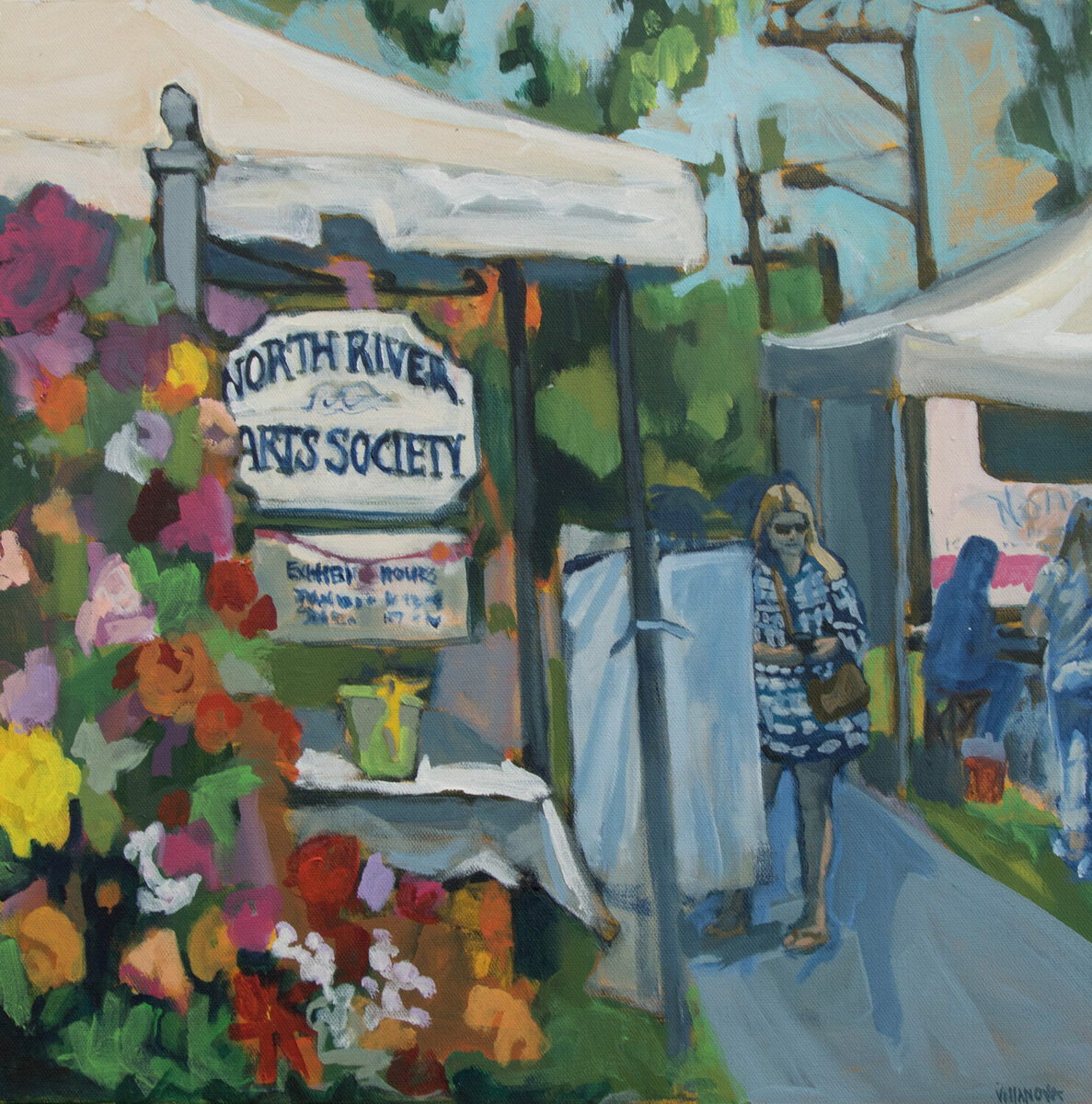 Art by Paula Villanova
Deadline for entry was

April 19, 2023
All accepted work will be on display in the G.A.R. Hall (Fine Art) and Firehouse (Photography)

157 Old Main Street, Marshfield Hills, MA
Exhibition dates May 26 – June 29, 2023
​Deadline for Entries
Monday, April 17, 2023, midnight
​Online Entry
The entry form, digital images and payment of entry fee must be submitted to showsubmit.com. We suggest you go to
www.showsubmit.com
in advance to set up an account, if you don't already have one, and familiarize yourself with the entry process.
Artists can submit up to 5 pieces, regardless of medium.
Up to two pieces per artist may be chosen by Jurors of Selection to hang in the exhibit.
If accepted, delivery information will be provided at time of acceptance notification.
Cost: $20 for first entry, $10 for each additional entry.
​Eligibility
All forms of artwork are allowed
All artwork must be originally drawn and is the artist's original work from conception through execution. The artwork must not be a copy or likeness of another's work, or derived from a published painting, drawing, photograph, digital image, or print.
Artwork, including frame, must not exceed 44" in width or height.
Submission of artwork done during the course of an in person or online workshop or class is not permitted.
Work must not have been previously exhibited in a North River Arts exhibition
Entrants must be over age 16 years and submitting artist must author work.
Work must have been completed within the past 3 years.
Awards
Best in Show (Fine Art) $500 plus Ribbon
Best in Show (Photography) $500 plus Ribbon

Awards of Distinction Cash Award plus Ribbon


Mac Haran Memorial Award for Artistic Excellence $250
Marian Atkinson Memorial Award for Soft Pastel $100
Jeanne W. Horan Memorial Award for Spirit of Marshfield $100
Joanne F. Regan Memorial Award for Composition $100
Carolyn B. Harvey Memorial Award for Creativity $100
Ros Farbush Memorial Award for Color $100
Katherine M. Wolff Memorial Award for Floral Composition $100
D.D. Pierce Memorial Award for Landscape (river or marsh) $100
Frank D. Sullivan Memorial Award for Nautical Theme Photography $100
Ross E. Bodnar Memorial Award for Impressionism $100
Marion Carlson Memorial Award for Evoking Joy $100
(11) 1st Place Prizes – $150 plus Ribbon
Oil, Acrylic, Watercolor, Pastel, Printmaking/Drawing, Mixed Media, Sculpture, Color Photography, Black & White Photography, Creative Digital Manipulation Photography, Portrait/Figure Photography

Honorable Mentions (14 for fine art 8 for photo)
​
Juried Fine Art and Sculpture Judges
Juried Photography Judge
Sales
Artwork may be sold throughout the exhibit, with Members charged a 30% commission and Non-Members charged 45%. Payment to the artist will be within 30 days of exhibition closing.
Hand Delivery and Shipping for the Awards Show
Information will be provided to artists upon acceptance into the Awards Show.
Questions​​
For questions or assistance with your online submissions please contact North River Arts Society, Julia Driscoll at
[email protected]
or
ShowSubmit
at
[email protected]
with any questions you might have.
Additional Notification Information
Notifications will be emailed by the end of the day on April 27, 2023. We cannot respond to inquiries regarding the status of notifications before then.
Please add [email protected] to your email safe senders list.
After notifications are sent, you may view the status of your entry in your ShowSubmit artist account's Entry History. Accepted works will be notated by a green check.

If you do not receive your email, you may also view your notification letter using the View Notification link in your Entry History.

Note: Entries made prior to 2023 may not display the View Notification link.
Image and Filename Specifications
You do not need to resize or rename your image files.
Submit your original JPEG image files.
Crop out all parts of the photo that are not the actual work; do not show mat, frame, etc, only the work itself.
Image files are automatically resized to 72 dpi and 1500 pixels on the longest edge.
Image files are automatically renamed using your last name, first initial and the title of the work. e.g. Hamby_D_BeautifulDay.jpg
Additional Entry Information
You will pay for your entry by credit or debit card using our secure checkout system.
After your entry is submitted and paid for, you may log back in to review your entry, edit artist and image information, and add or substitute images up until the entry deadline (April 19, 2023.)
Entry fees are not refundable and must be submitted and paid by the entry deadline.
Entries cannot be accepted or changed after the deadline. Incomplete entries will be disqualified.
Support
For questions about the entry process or this website please contact ShowSubmit Support at [email protected]. We will get back to you between 9am and 6pm Eastern Time, Monday to Friday. You can also view the Support Center, Entry Guide, or our FAQ.