Audubon Artists, Inc.
81st Annual Exhibition
Deadline was

September 8th
Open to Non-Members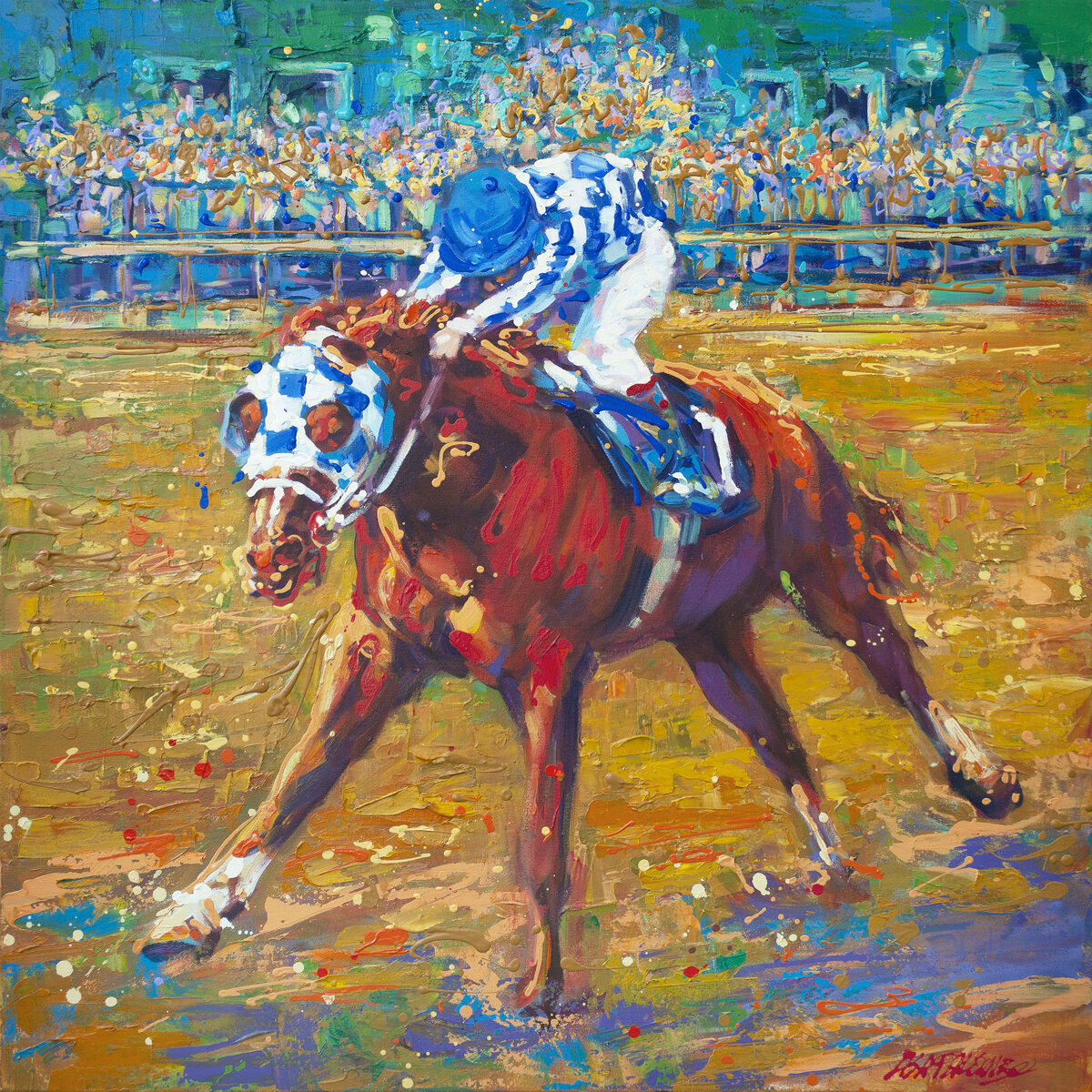 The Country Was Cheering by Lisa Palombo
Deadline for entry was

September 8, 2023
Note: Audubon Artists are currently working to get the PayPal back up and running on their website. In the meantime, please contact

[email protected]

for instructions to pay your membership dues via check.

Due to current circumstances, if checks arrive a little later than Sept. 8th your submission will still be accepted.

You will still pay the non-refundable $50 entry fee to complete your submission here on ShowSubmit.
In-Person Exhibit
November 4th, 2023 through November, 25th 2023

Art League of Long Island
107 E Deer Park Road
Dix Hills, NY 11746
Online Exhibit
November 12th, 2023 through November 12th, 2024
Awards
$20,000 in cash & merchandise awards
Entry Fee
1 Entry per Artist
$50 per Entry (non-refundable)
1 Work per Entry
Juror of Awards
To be announced
Exhibit Entrants Requirements
Renew or register membership and pay dues at audubonartists.org.
Elected Member Dues are $70; Associate Dues are $40.
All Member Dues for the July 1, 2023–June 30, 2024 fiscal year must be paid to participate in the show.
Submissions must be made online at ShowSubmit.com Submit your original high quality Image file. You do not need to resize it or rename it.
Elected and Honorary Members are Jury Free
* Elected members are subject to jury if the entry is not in their designated medium category.
To enter on behalf of an Artist go to ShowSubmit, enter the Artist's email address or a unique email address, if they don't have one, to create their account and proceed with the submission and payment process.
Eligibility
All dues and arrears must be paid by September 1st.
Any entry received after September 8, 2023 will not be processed.
This is an Elected, Honorary, Associate, and Non-Members show.
Entries from NEW ASSOCIATE MEMBERS are welcome.
Elected and Honorary Members are Jury Free*
Elected members are subject to jury if the entry is not in their designated medium category.
All artist entrants must reside in the USA.
Eligible Work
All work by the artist must be original, created within the last 5 years, and not previously exhibited in any Audubon Artists Exhibit.
Accepted media: Aquamedia, Collage & Mixed Media, Graphics, Oils/Acrylics, Pastels, Sculpture
Computer generated art, photography or class work will not be accepted.
No digital artwork.
All work must be for sale (No NFS or POR) and priced realistically.
2D work
One JPEG image, maximum 30" in height and width, including frame.
Works must be properly prepared for hanging (NO sawtooth hangers!)
Mats must be neutral or black.
3D work
Two JPEG images of the same work with different views for Sculpture in the Round, maximum 15" length and width, 30" height
Maximum weight 50 lbs.
Pedestals provided by ALLI
Incomplete entries will be disqualified.
Audubon Quality Standards
Photograph all art without a frame, mat, glass, or objects in the background.
Work should be well-lighted and in sharp focus.
Sculpture should be photographed on a neutral background.
Any work not meeting Audubon quality standards will not be accepted. Jurors' decisions are final, and acceptance into the exhibit is not guaranteed. All fees are non-refundable.
Sales
Work must be for sale; NFS is not allowed.

No Commission will be taken by Audubon Artists Inc. on any sale for the 2023 Online and In-Person Exhibition. Any communication on selling work on this exhibition must be handled by the Artist/Seller and the Buyer. Audubon Artists Inc. will not be involved. The Artists' email address will appear below their work if agreed to in the ShowSubmit Entry Form.
Media/Press Releases
Audubon Artists and ALLI reserve the right to use exhibited digital images for accepted and exhibited works submitted to Audubon Artists Inc. for documentary and promotional purposes. By participating in the Audubon Artists Annual Exhibition, you agree that Audubon Artists and ALLI may reproduce, distribute, and publicly display all exhibitor/member art images in all media (including but not limited to the newsletter, electronic media, and the website) that have been submitted to Audubon Artists and that this art society may use, reproduce, distribute, and publicly display your name, likeness, image, and photos of you for advertising and promotional purposes.
Liability
All entries accepted for the in-person exhibition will be handled with great care. Audubon Artists and ALLI will not be responsible for loss or damage.
Questions
Additional Notification Information
Notifications will be emailed by the end of the day on September 29, 2023. We cannot respond to inquiries regarding the status of notifications before then.
Please add [email protected] to your email safe senders list.
After notifications are sent, you may view the status of your entry in your ShowSubmit artist account's Entry History. Accepted works will be notated by a green check.

If you do not receive your email, you may also view your notification letter using the View Notification link in your Entry History.

Note: Entries made prior to 2023 may not display the View Notification link.
Image and Filename Specifications
You do not need to resize or rename your image files.
Submit your original JPEG image files.
Crop out all parts of the photo that are not the actual work; do not show mat, frame, etc, only the work itself.
Image files are automatically resized to 300 dpi and 1200 pixels on the longest edge.
Image files are automatically renamed using your last name, first initial and the title of the work. e.g. Hamby_D_BeautifulDay.jpg
Additional Entry Information
You will pay for your entry by credit or debit card using our secure checkout system.
After your entry is submitted and paid for, you may log back in to review your entry, edit artist and image information, and add or substitute images up until the entry deadline (September 8, 2023.)
Entry fees are not refundable and must be submitted and paid by the entry deadline.
Entries cannot be accepted or changed after the deadline. Incomplete entries will be disqualified.
Support
For questions about the entry process or this website please contact ShowSubmit Support at [email protected]. We will get back to you between 9am and 6pm Eastern Time, Monday to Friday. You can also view the Support Center, Entry Guide, or our FAQ.