Allied Artists of America
110th Annual Exhibition
Open to Non-Members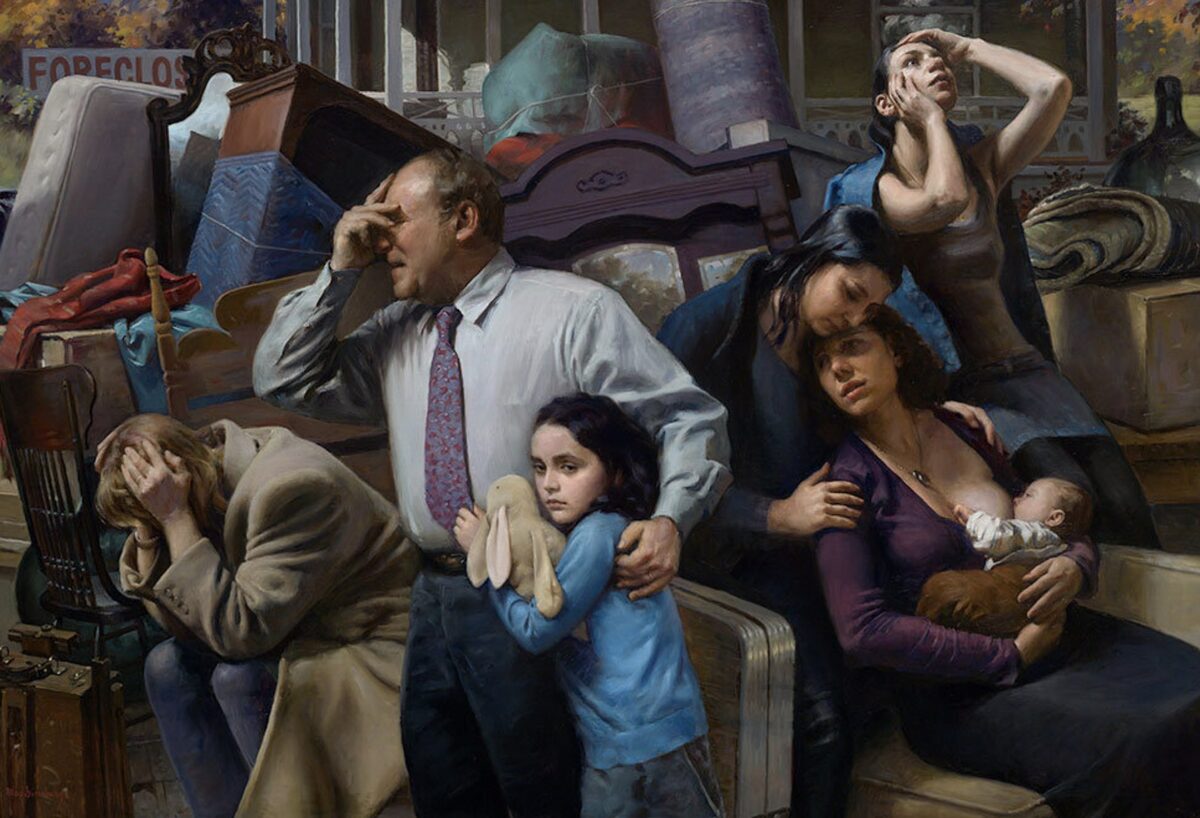 Foreclosure by Max Ginsburg
Deadline for entry was

June 26, 2023

This year the Butler Institute of American Art will be hosting a curated exhibition comprised of 125 works selected from the accepted entries in Allied Artists' 110th online exhibition.
Jury of Selection
Nadia Klionsky, Natalia Koren Kropf, Steven Scheuring
Jury of Awards
Karli Wurzelbacher, Ph.d,
Head Curator Heckscher Museum Of Art,
Huntington, NY
Awards
Over $30,000 in cash
$5000 Audrey Love Award
AAA Gold Medal Of Honor, $3000
AAA Silver Medal Of Honor, $2000
AAA Bronze Medal Of Honor, $1000
Eligibility
Open to all artists 18 years and older.
You do not need to be a member of Allied Artists of America to enter the exhibition.
Original 2 dimensional original artwork in oil, watercolor, pastel, acrylic, graphic, mixed media and sculpture, NO photography or digital art.
Works don't have to be for sale, No POR (Price upon request)
Work must be 48" or smaller in any dimension including frame. This applies for BOTH the online show and the Butler Institute of American Art Museum show.
All work must be framed, wired and ready to hang—we do not provide framing hardware.
Sculpture in the round — 48" x 24" x 24" inches maximum dimensions excluding base; maximum weight 150lbs.
Reliefs — 36" x 36" x 6" inches deep, maximum dimensions, maximum weight 30 lbs.
Size Restriction
There is a size limit for the 110th Online and Museum Invitational. If the work in the online show is chosen, it must be 48 inches or smaller to be accepted by the Butler.

Size restrictions will be enforced, so please measure carefully. Your work will be rejected if it is over 48 inches.
Entry Fee
Up to 2 works.
$65 for the first work, $15 for the second work.
Elected Members, Associates and Non-Members will be juried this year.
The $65 fee must be paid by all.
Only one entry can be submitted per artist.
Incomplete entries will be disqualified.
Sales
Work may be for sale; NFS is allowed.

No commission taken on sales for this particular online and museum exhibition. Any communication on selling work in this online or museum exhibition must be handled by artist and seller. Allied Artists of America will not be involved.
Shipping
If you are invited to display your art at the Butler Institute of American Art, you may ship using FedEx or a similar agent. The museum will unpack and repack your work— you must include a prepaid return label in your shipping box. The Butler assumes no liability for loss or damage for any cause during shipping for accepted work. Entry to the 110th exhibition signifies agreement to these terms.
For Invited Artists
Receiving art days at the Butler: August 24 and 25, 2023, 11am-3pm
Pick up art days: October 17–October 20, 2023, 11am-3pm
Acceptance Notification
A complete list of all accepted artists will be posted on the AAA website beginning July 8, 2023. Please check back for awards announcements concerning the 110th Annual Exhibition.
Additional Notification Information
Notifications will be emailed by the end of the day on July 8, 2023. We cannot respond to inquiries regarding the status of notifications before then.
Please add [email protected] to your email safe senders list.
After notifications are sent, you may view the status of your entry in your ShowSubmit artist account's Entry History. Accepted works will be notated by a green check.

If you do not receive your email, you may also view your notification letter using the View Notification link in your Entry History.

Note: Entries made prior to 2023 may not display the View Notification link.
Image and Filename Specifications
You do not need to resize or rename your image files.
Submit your original JPEG image files.
Crop out all parts of the photo that are not the actual work; do not show mat, frame, etc, only the work itself.
Image files are automatically resized to 300 dpi and 1700 pixels on the longest edge.
Image files are automatically renamed using your last name, first initial and the title of the work. e.g. Hamby_D_BeautifulDay.jpg
Additional Entry Information
You will pay for your entry by credit or debit card using our secure checkout system.
After your entry is submitted and paid for, you may log back in to review your entry, edit artist and image information, and add or substitute images up until the entry deadline (June 26, 2023.)
Entry fees are not refundable and must be submitted and paid by the entry deadline.
Entries cannot be accepted or changed after the deadline. Incomplete entries will be disqualified.
Support
For questions about the entry process or this website please contact ShowSubmit Support at [email protected]. We will get back to you between 9am and 6pm Eastern Time, Monday to Friday. You can also view the Support Center, Entry Guide, or our FAQ.