This call for entry has closed and the information below is for reference only.
Looking for open calls for entry? View open calls
Looking for the ACYC 2023 National Juried Show gallery? View the online art gallery
Arts Center of Yates County
2023 National Juried Show
Open to Non-Members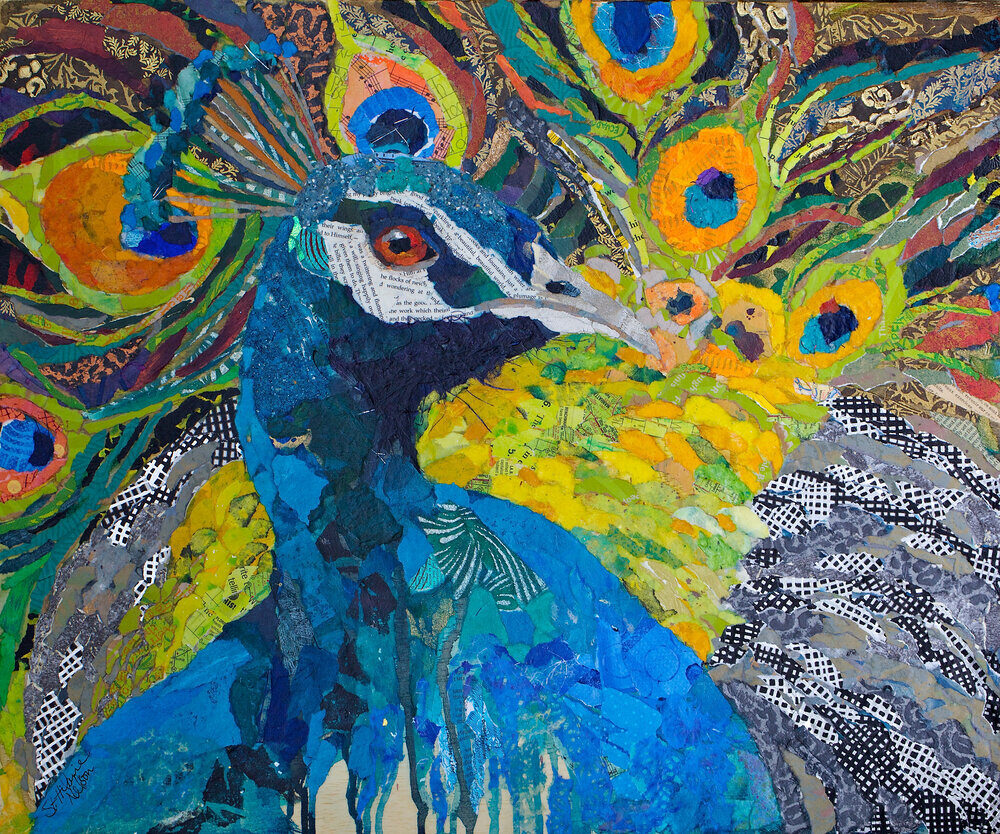 Art by Elizabeth St. Hillaire
Deadline for entry was

June 30, 2023
Eligibility
Open to all artists in the USA and Canada. Work must be ORIGINAL 2-Dimensional work including paintings in all media, drawings, collage, and printmaking. Digitally manipulated or artistically enhanced photography will not be accepted into this juried show. Work must be wholly designed and executed by the artist. Not done under supervision. Paintings must have been created within the last 4 years. Overall size, including frame, should not exceed 36" x 36". Work must be sturdily and attractively framed and wired for hanging. No saw-tooth hangers. Artwork may be framed with or without mats.
For additional criteria, please
download the prospectus.
Entry Fee
$35 for ACYC members - for up to 3 entries
$40 for non-members - for up to 3 entries
Entry fees are not refundable and must be paid by the entry deadline.


Incomplete entries will be disqualified.
Accepted Artwork
All accepted work must be displayed for the duration of the show.

Accepted work must be labeled with artist's name, title, medium, and price on back of artwork in lower right corner. Artwork must be identical to the accepted image. No substitutions permitted. Digital entry is a good faith obligation and should be honored.
Shipping of accepted work
Paintings must be shipped via FedEx or UPS to the following agent and must be received by August 1, 2023.


Lana Grauer
2324 Cortlandt Road
Penn Yan, NY 14527
Include name of artist, address, phone number, e-mail address. Also include a bar-coded, prepaid return shipping label. Please pack work carefully and insure adequately. Artists will be contacted if work arrived damaged so arrangements can be made to repair or reframe as needed by a local framing company. Artist will be responsible for cost of repair/damage and will be billed directly by the framer. For any questions on shipping and handling, please contact:
[email protected]
Delivery of accepted work
Artwork should be hand delivered to the Flick Gallery at the Arts Center of Yates County, 127 Main Street, Penn Yan on Saturday, August 15 between 9 am and 12 noon.
Return of accepted work
Artwork must be picked up from the Flick Gallery at the Arts Center of Yates County, 127 Main Street, Penn Yan, NY on Saturday, September 16 from 10 am - 4 pm or Monday, September 18 from 9 am - 12 noon unless otherwise pre-arranged.
Awards
Over $1000 in cash prizes will be awarded.
Sales
Work may be for sale; NFS is allowed.

Sales are strongly encouraged but artwork is not required to be for sale. Artists who sell their artwork in the show will be charged 35% commission to the Arts Center of Yates County to help defray their costs related to the exhibit.
Juror/Judge of Awards
Elizabeth St. Hillaire
Elizabeth St. Hilaire is an award winning full-time artist, art workshop instructor, and published author. Her unique mixed-media artwork is created from torn tidbits of hand-painted paper. St Hilaire's collages are collected and have been exhibited both nationally and internationally; images of her work are reproduced and available nationwide on wall canvas, household items, stationery, clothing, jewelry, and more. St Hilaire is a Signature Member of National Collage Society, holds a BFA from Syracuse University, and has been working in her medium for over 12 years.
Her book,
Painted Paper Art Workshop
, became available through North Light books in 2016. St. Hilaire has five self-published books on her process and has authored articles about her work in Cloth Paper Scissors,
The Artists Magazine,
and
Acrylic Artist
magazine. Her work has been featured in
Southern Living
magazine,
The Cloth Paper Scissors Book: Techniques and Inspiration for Creating Mixed-Media Art
, and
Collage in All Dimensions
by Gretchen Bierbaum. Best Selling author BJ Gallagher published a feature article about St. Hilaire and her collage artwork for the
Huffington Post
and Art Marketing Coach Alyson Stanfield featured Elizabeth on her pod cast series about full-time working artists.
Elizabeth St. Hillaire with her numerous stencil designs. See St. Hillaire's website at
paperpaintings.com
Questions
For further information about the ACYC National Juried Show or if you have any questions, please contact Juried Show Co-Chairs:
Fran Bliek at f
[email protected]
or Lana Grauer at
[email protected]
Additional Notification Information
Notifications will be emailed by the end of the day on July 10, 2023. We cannot respond to inquiries regarding the status of notifications before then.
Please add [email protected] to your email safe senders list.
After notifications are sent, you may view the status of your entry in your ShowSubmit artist account's Entry History. Accepted works will be notated by a green check.

If you do not receive your email, you may also view your notification letter using the View Notification link in your Entry History.

Note: Entries made prior to 2023 may not display the View Notification link.
Image and Filename Specifications
You do not need to resize or rename your image files.
Submit your original JPEG image files.
Crop out all parts of the photo that are not the actual work; do not show mat, frame, etc, only the work itself.
Image files are automatically resized to 300 dpi and 1600 pixels on the longest edge.
Image files are automatically renamed using your last name, first initial and the title of the work. e.g. Hamby_D_BeautifulDay.jpg
Additional Entry Information
You will pay for your entry by credit or debit card using our secure checkout system.
After your entry is submitted and paid for, you may log back in to review your entry, edit artist and image information, and add or substitute images up until the entry deadline (June 30, 2023.)
Entry fees are not refundable and must be submitted and paid by the entry deadline.
Entries cannot be accepted or changed after the deadline. Incomplete entries will be disqualified.
Support
For questions about the entry process or this website please contact ShowSubmit Support at [email protected]. We will get back to you between 9am and 6pm Eastern Time, Monday to Friday. You can also view the Support Center, Entry Guide, or our FAQ.