This call for entry has closed and the information below is for reference only.
Looking for open calls for entry? View open calls
Looking for the CLWAC 2023 Members and Associates Online Show gallery? View the online art gallery
Catharine Lorillard Wolfe Art Club
2023 Members and Associates Online Show
Members Only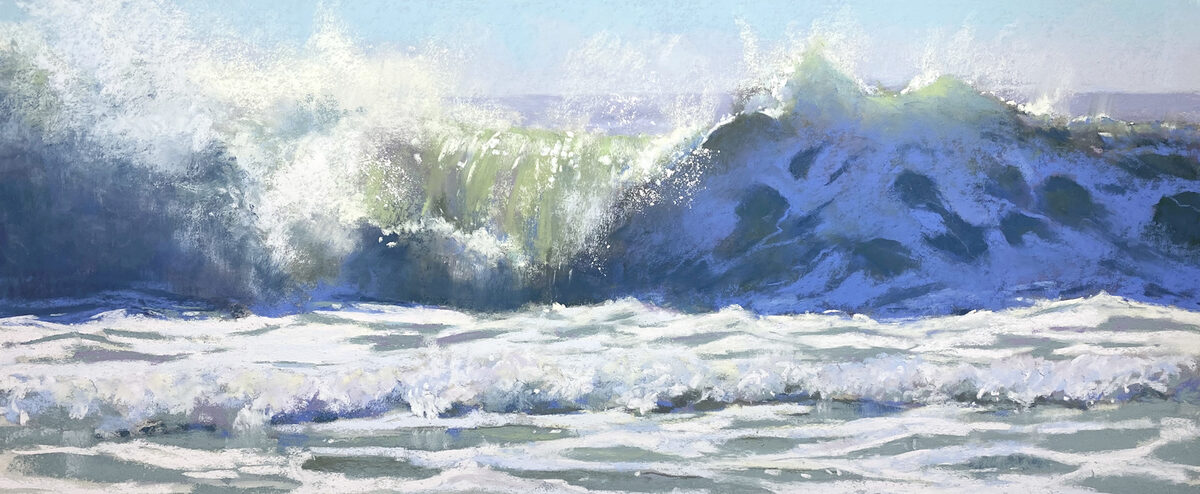 Magnificent Wave by Jane McGraw-Teubner
Deadline for entry was

April 14, 2023
You are cordially invited to Catharine Lorillard Wolfe Art Club's Member and Associates Online Exhibition. We are pleased to announce cash prizes totalling $1500 will be offered. Artwork will be selected and juried for awards by Susan Story, Master Pastelist of the Pastel Society of America.
Established in 1896, CLWAC remains committed to providing exhibition opportunities in the NYC area for women artists. CLWAC members are represented in museums, corporate and private art collection and galleries worldwide. Full artist Membership consideration is limited to those women artists who have had two juried acceptances in the Club's Annual Open Exhibition over a five year period. For more information about the Club's history and efforts, please go to:
clwac.org
Jury of Selection and Awards
Susan Story MP, PSA
Eligibility
Only Members and Associates in good standing over the age of 18 are eligible to enter this show. You must be a current or new paid associate member prior to entering. To join CLWAC as an associate visit: clwac.org
This exhibit will showcase the professional artistic talents of our Members and Associates. No work done in a classroom or workshop permitted.
Members and Associates will be juried into this show ONLY IF YOU FOLLOW THE RULES.
Entry fees will not be refunded on the grounds of an unacceptable entry.
NO paper entries, email submission/entries or late entries will be allowed.
In your entry, a valid email address will be required.
The entry page provides further information on image sizing, image filenames, etc. Entries will be judged for awards in the categories shown under the AWARDS section below.
Awards
$300 FIRST PLACE and $200 SECOND PLACE

5 Categories:
Oil/Acrylic, Water Media, Pastel, Graphics/Mixed Media, Sculpture
Entry Fees
Members: $25 for 1, $35 for 2
Associates: $35 for 1, $45 for 2
A maximum of 2 works may be submitted.
Eligibility/Size
You must be an associate in good standing to enter. To join CLWAC as an associate:
clwac.org/Apply-for-Membership
There will be no size limit to work.
Sales
Work must be for sale; NFS is not allowed.

A 25% contribution from all sales will be accepted by CLWAC. Artists are responsible for sales tax and shipping of artwork.
Questions
Any questions, please email with
CLWAC Member and Associates Show
in the subject line:
[email protected]
Additional Notification Information
Notifications will be emailed by the end of the day on April 28, 2023. We cannot respond to inquiries regarding the status of notifications before then.
Please add [email protected] to your email safe senders list.
After notifications are sent, you may view the status of your entry in your ShowSubmit artist account's Entry History. Accepted works will be notated by a green check.

If you do not receive your email, you may also view your notification letter using the View Notification link in your Entry History.

Note: Entries made prior to 2023 may not display the View Notification link.
Image and Filename Specifications
You do not need to resize or rename your image files.
Submit your original JPEG image files.
Crop out all parts of the photo that are not the actual work; do not show mat, frame, etc, only the work itself.
Image files are automatically resized to 300 dpi and 900 pixels on the longest edge.
Image files are automatically renamed using your last name, first initial and the title of the work. e.g. Hamby_D_BeautifulDay.jpg
Additional Entry Information
You will pay for your entry by credit or debit card using our secure checkout system.
After your entry is submitted and paid for, you may log back in to review your entry, edit artist and image information, and add or substitute images up until the entry deadline (April 14, 2023.)
Entry fees are not refundable and must be submitted and paid by the entry deadline.
Entries cannot be accepted or changed after the deadline. Incomplete entries will be disqualified.
Support
For questions about the entry process or this website please contact ShowSubmit Support at [email protected]. We will get back to you between 9am and 6pm Eastern Time, Monday to Friday. You can also view the Support Center, Entry Guide, or our FAQ.