This call for entry has closed and the information below is for reference only.
Looking for open calls for entry? View open calls
Looking for the CPS 30th Annual National Exhibition gallery? View the online art gallery
Connecticut Pastel Society
30th Annual National Exhibition
Renaissance in Pastel
Open to Non-Members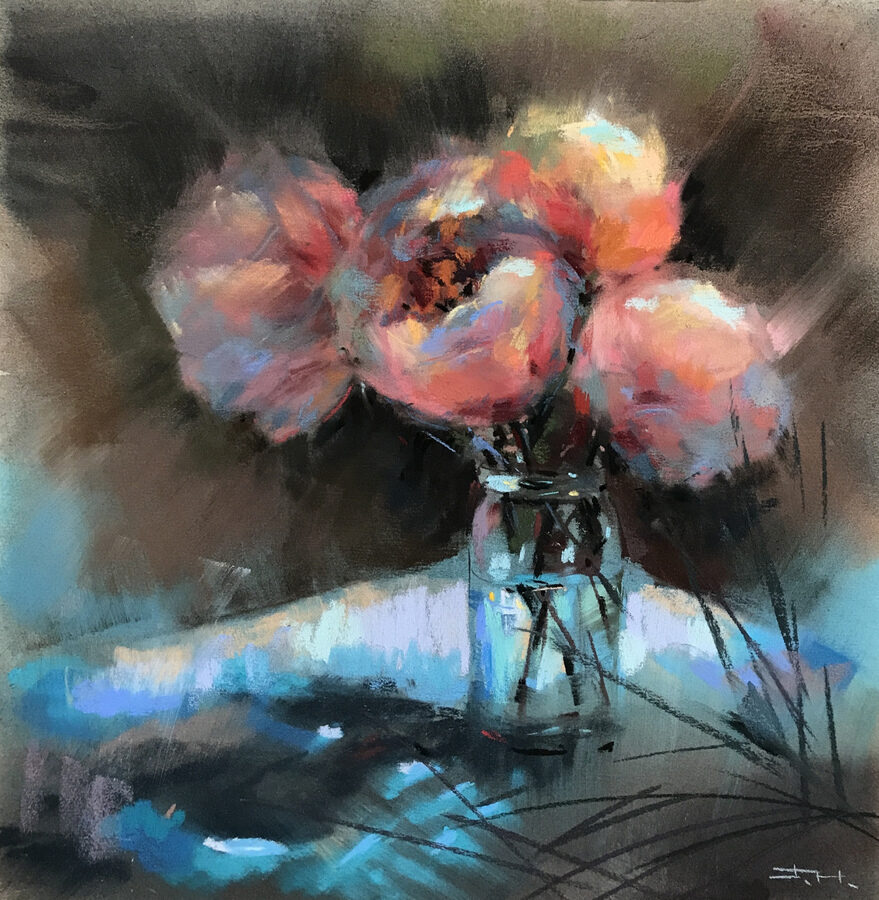 Coral Peonies On Turquoise Tablecloth by Tatsiana Harbacheuskaya
Deadline for entry was

July 28, 2023
Eligible Work
The show is open to all artists working in the soft pastel medium, not oil pastels. Work must be at least 80% soft pastel. It can't be painted over a mechanical reproduction or collage. Work must not use any varnish or finish except traditional pastel fixative. Any subject or style is eligible.

Work must have been completed within the past three years and must be original. It can be neither copied from works or photographs by others, nor done in a classroom, workshop, or under the supervision of an instructor.

Work cannot be exhibited in any other national or international open juried pastel show concurrently, whether online or in person. Work CANNOT have won any award in a national or international open juried pastel show by the submission deadline for Renaissance in Pastel. Work may not have been exhibited in a previous CPS show. Work may be submitted if it has won an award in a multimedia exhibit. Work that has won an award in a pastel society members show other than CPS is eligible for entry.

Size limit is 40 inches in either direction, including frame. Artwork must be securely and professionally framed under glass or plexiglass and be ready to hang with screw eyes and wire, no sawtooth hangers. If not secure the piece will not hang.
Entry and Fees
All entries must be submitted through showsubmit.com. No CDs or emailed images will be accepted. Each artist may submit up to three images, but only one may be accepted. Incorrectly labeled or incorrectly sized work will be disqualified. Changes in the price of the painting between entry and receiving will not be honored.

Entry fees must be paid online by credit card at time of submission, and are non-refundable.

Members:
$30 for 1 image, $35 for 2 images, $40 for 3 digital images. 2023 dues must be paid.

Non-members:
$40 for 1 image, $45 for 2 images, $50 for 3 digital images.
Image Preparation
Take a very level, high quality image and crop the photo until only the painting image is visible. Do not make enhancements to your image. Save the image as a jpg. Additional how-to details are on the CPS website's entry page.
Delivering Your Work
All entrants will receive an email notification by August 22. Artists whose work is accepted will receive an exhibition label and shipping instructions. The label must be completed and affixed to the back center of the painting. A list of other accepted artists, by state, will be included for ride sharing. The painting submitted must be identical to the accepted JPEG; no substitutions.


All hand-delivered work must be dropped off and ready to hang Saturday, September 23 from 10am-12:00 pm.


*There will be a two-year ban from entering the show if your image is accepted and the identical painting is not delivered.

Shipped work must arrive to the shipper between September 13 - 21. There will be a $30.00 shipping & handling fee. Detailed shipping instructions will be attached to your acceptance email.
Sales and Removal
All work must be for sale; no POR or NFS allowed. A 30% CPS commission will be taken on all work sold. Exhibited work that is not sold must be picked up on Sunday, October 29 from 10am-2pm. If you are not able to pick up your work at that time, please arrange to have another artist pick up your painting.
Jury of Selection
Wende Caporale
Desmond O'Hagan
Corey Pitkin
Awards Judge
Jeanne Rosier Smith, IAPS-MC/EP, PSA, Jeanne is a Connecticut Pastel Society Signature Member, Pastel Society of America Signature Member, and International Association of Pastel Societies Eminent Pastelist, as well as other organizations.
Awards
CPS® Renaissance Best in Show $1,200
CPS Founders Award $1,000
CPS Presidents Award $800
Dianne B. Bernhard Award $750
CPS Honor Award $500
Board of Directors Award $500.00
Philip Danylik Memorial Award $250.00
Pastel Society of America Award $200
Pastel Society of the West Coast Award $200
Allied Artists of America Award $150
Central Massachusetts Pastel Society $150
Pastel Painters Society of Cape Cod Award $150
Salmagundi Club Award $150
Catharine Lorillard Wolfe Art Club Award $150
Maryland Pastel Society Award $100
Madison Art Society Award $100
Pastel Society of Maine Award $100
Pastel Society of New Jersey $100.00
Pastel Society of New Hampshire Award $100

The CT Pastel Society typically distributes awards for the Renaissance Show totaling approximately $9,000 in cash and merchandise. This list of 2023 awards is not final. It will be revised as vendors who normally support CPS confirm their participation, and the final list will appear in the show catalogue.
A note to international artists
All MERCHANDISE AWARDS will be shipped at THE ARTIST'S COST, payment being made to PayPal prior to shipping, with CPS having no responsibility for damage to the materials.

For CASH AWARDS, International Artists must accept payment by PayPal only.
Venue
ARTS CENTER EAST
709 Hartford Turnpike
Vernon, CT 06066
860-871-8222
Connecticut Pastel Society Officers
President: Karen Suponski
Vice President: Steve Brunetti
Secretary: Karen Israel
Treasurer: Heather Quay
Membership: Phyllis Phelps
Exhibition Co-Chairs: Chris Ivers, Karen Israel, and Steve Brunetti
Awards Team: Patricia Boes & Mary Ann D'Ambruoso
For information, contact:
Additional Notification Information
Notifications will be emailed by the end of the day on August 22, 2023. We cannot respond to inquiries regarding the status of notifications before then.
Please add [email protected] to your email safe senders list.
After notifications are sent, you may view the status of your entry in your ShowSubmit artist account's Entry History. Accepted works will be notated by a green check.

If you do not receive your email, you may also view your notification letter using the View Notification link in your Entry History.

Note: Entries made prior to 2023 may not display the View Notification link.
Image and Filename Specifications
You do not need to resize or rename your image files.
Submit your original JPEG image files.
Crop out all parts of the photo that are not the actual work; do not show mat, frame, etc, only the work itself.
Image files are automatically resized to 300 dpi and 1200 pixels on the longest edge.
Image files are automatically renamed using your last name, first initial and the title of the work. e.g. Hamby_D_BeautifulDay.jpg
Additional Entry Information
You will pay for your entry by credit or debit card using our secure checkout system.
After your entry is submitted and paid for, you may log back in to review your entry, edit artist and image information, and add or substitute images up until the entry deadline (July 28, 2023.)
Entry fees are not refundable and must be submitted and paid by the entry deadline.
Entries cannot be accepted or changed after the deadline. Incomplete entries will be disqualified.
Support
For questions about the entry process or this website please contact ShowSubmit Support at [email protected]. We will get back to you between 9am and 6pm Eastern Time, Monday to Friday. You can also view the Support Center, Entry Guide, or our FAQ.