This call for entry has closed and the information below is for reference only.
Looking for open calls for entry? View open calls
Connecticut Pastel Society
37th Annual Members Show
Members Only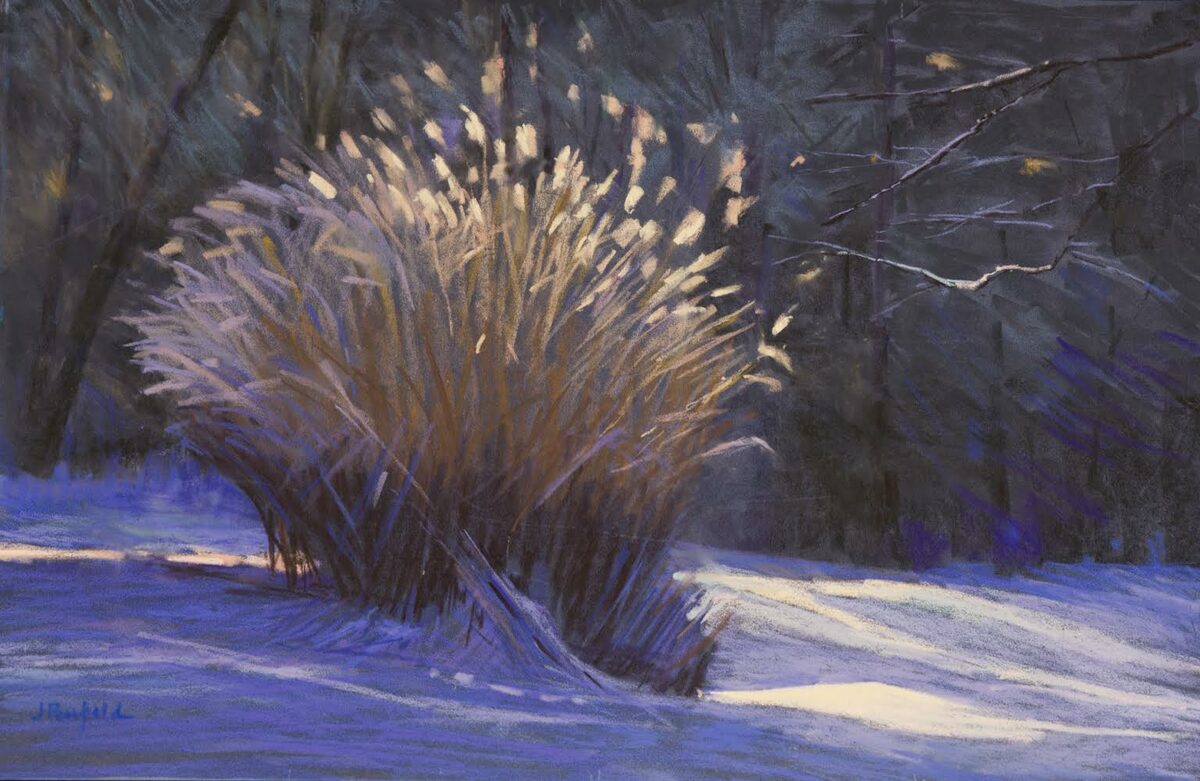 Transitions by Jane Penfield
Deadline for entry was

March 13, 2023
Awards
Nearly $5,000 in cash and merchandise awards
Entry Fees
One entry per member for the Members Show which is juried for awards only.
Entry fee is $35.
Exhibition Requirements
You must be a current CPS member to participate. Works not previously shown in a CPS show and created in the past three years are eligible. 2023 dues must be paid in order to participate in the show and online pre-registration is required (see instructions below).
Note size limit requirements: maximum size (including frame) 28" maximum on the longest side. Due to space limitations in the gallery, size limits will be strictly held and oversized works will not be eligible. Work must be framed and ready to hang with a wire (no saw tooth hangers).
Works must be at least 80% soft pastel (no oil pastel) and original (no giclees or prints). Works done in classroom or workshop settings and/or painted over a mechanical reproduction/collage are not eligible.
Artwork must be securely framed under glass or plexi-glass and works glazed with a finished surface of matte acrylic, resin, or solvent varnish will not be accepted.
Sales
Work may be for sale; NFS is allowed.


A 30% commission will be taken for sold paintings. NFS work is eligible. Neither CPS nor SoCCA is responsible for work submitted, but every precaution is in operation.
Exhibit Location
Southington Community Cultural Arts (SoCCA): 93 Main Street, Southington, CT 06489 (corner of Main Street and Berlin Avenue) Phone: 860-276-1581


Due to current Covid safety protocols, CPS encourages all to wear masks while attending this event, regardless of vaccination status.
Judge of Awards
Shauna Shane
Shauna has been a full time professional painter for more than 45 years and is a Signature and board member of Hudson Valley Art Association. She is also a Signature member of CT Pastel Society, Lyme Art Association, Arts Center East, New England Watercolor Society and CT Plein Air Painters Society. She exhibits internationally and has received awards in a variety of mediums. She is also a popular demonstrator and teacher and has a studio and classroom in Storrs, CT.
Membership Dues
Please pay dues prior to receiving day!


Membership dues cover January 1 – December 31, 2023. Regular Member dues are $35. Signature Members dues are $45 ($75 for Signature plus website listing). You may pay online on the CPS website with a credit/debit card. Please note that your membership dues must be paid in advance of receiving day in order to participate in this show as dues will not be collected during receiving. If you prefer not to use the online payment service, you may also pay by check or money order. Make checks payable to: Connecticut Pastel Society and mail to the address below. Be sure to include your name, address, phone and email, and mail it so it is received by the Treasurer prior to receiving day.

Connecticut Pastel Society
Attention: Heather Quay, Treasurer
PO Box 79090
Belmont, MA 02479
Shipping Instructions
If you are shipping a painting, plan to have your work arrive before March 19 and ship to the address below. Please use an Airfloat StrongBox or similar packaging. Works packed in styrofoam peanuts will be disqualified.
Packaging must include pre-paid return labels or artwork will not be accepted.
Include in your box a check to CPS for $35 for handling fee. UPS and CPS take no responsibility for damages incurred in shipping due to poorly packaged paintings. Please notify Mary Ann D'Ambruoso by February 28 if you are shipping work (
[email protected]
or 475-559-3283).
USE UPS ONLY - NO OTHER CARRIER

Ship to:
M D'Ambruoso/Connecticut Pastel Society/457-559-3283
UPS Store #4942
360-B Queen Street
Southington, CT 06489


Phone: 860-426-8449
A Message from the CPS President: CPS is pleased once again to be holding our annual Members Show in person at SoCCA. We have a rich membership with many different styles and personalities, and are looking forward to seeing your best work displayed in this exhibition!

– Karen Suponski
Questions
For further information about the Members Exhibit, please contact:
Image and Filename Specifications
You do not need to resize or rename your image files.
Submit your original JPEG image files.
Crop out all parts of the photo that are not the actual work; do not show mat, frame, etc, only the work itself.
Image files are automatically resized to 300 dpi and 1200 pixels on the longest edge.
Image files are automatically renamed using your last name, first initial and the title of the work. e.g. Hamby_D_BeautifulDay.jpg
Additional Entry Information
You will pay for your entry by credit or debit card using our secure checkout system.
After your entry is submitted and paid for, you may log back in to review your entry, edit artist and image information, and add or substitute images up until the entry deadline (March 13, 2023.)
Entry fees are not refundable and must be submitted and paid by the entry deadline.
Entries cannot be accepted or changed after the deadline. Incomplete entries will be disqualified.
Support
For questions about the entry process or this website please contact ShowSubmit Support at [email protected]. We will get back to you between 9am and 6pm Eastern Time, Monday to Friday. You can also view the Support Center, Entry Guide, or our FAQ.