Delaware Valley Art League
2023 Fall Show
Deadline was

September 7th
Members Only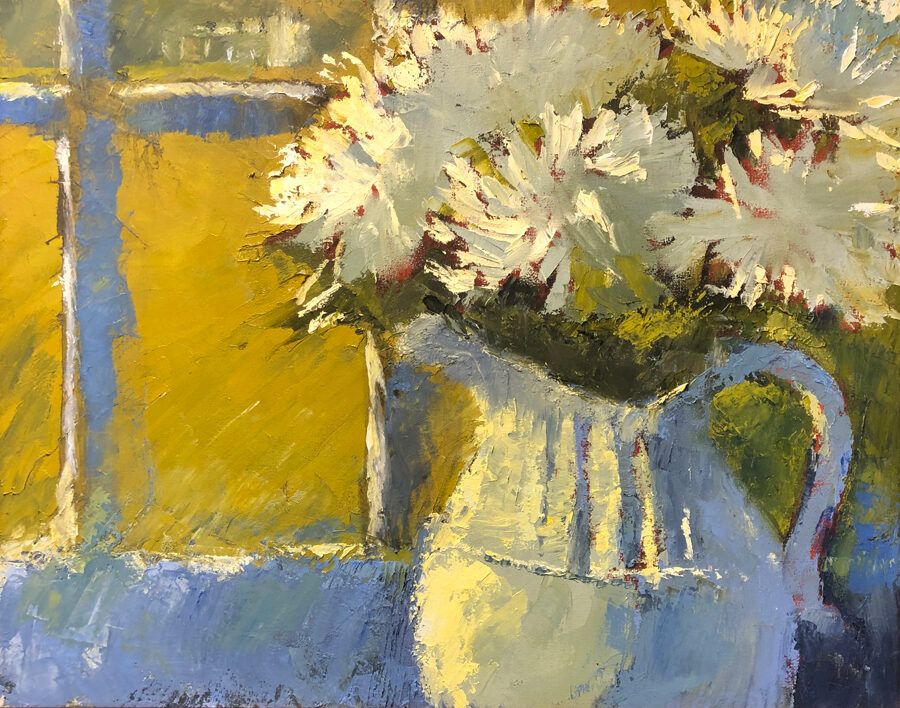 Across the Way by Rick Phillips
Deadline for entry was

September 7, 2023
Awards
$150 1st Place Catherine Brogan Founders Award
$50 Honorable Mention
$50 Frank Sobyak Memorial Award
$50 Patti Pensyl Simmons Memorial Award
Venue
Swarthmore Friends of the Arts
Swarthmore Borough Hall and Library
121 Park Avenue
Swarthmore, PA 19081
Juror of Selection
Rick Phillips


Rick Phillips is a celebrated contemporary oil painter and founder of Darley Arts Center in Claymont, DE. His work is in local galleries and international private collections. He is represented by Square Pear Fine Art Gallery in Kennett Square, PA. and Peninsula Gallery in Lewes, DE. To learn more about Rick visit his website:
rickphillipsartist.com
Entry Fees
$30 for up to 2 pieces per member
Exhibition Requirements
Open to "Full Members" only.
Each Full DVAL Member may enter up to two paintings for consideration by the juror however, due to limited space at this venue, only 1 piece, if any, may be accepted.
All work must be for sale.
Exhibitors must submit original work for all shows. Reproductions of any type will be rejected by the Exhibition Committee. No Digitally generated work, photographs or sculptures are accepted in any DVAL exhibit or art sale.
Entry fees are used to support the cost of the show and therefore are not refundable if your work is not accepted.
No work may be submitted for the jury process for the same venue where it has previously been shown. It may, however, be re-entered for the jury process in another DVAL show held in another venue.
All work for juried shows will be juried by an outside professional who is pre-determined by the Juror Procurement Director.
All work to be juried must have the DVAL entry label attached to the back (top left corner). A duplicate label is to be handed in to the Exhibition Committee. Labels are available on the website or at Membership Meetings.
​Sales
Work must be for sale; NFS is not allowed.

10% commission paid to Swarthmore Friends of the Arts.
Sales Tax
Pricing should include PA Sales tax of 6% tax - deducted from sales price for each painting sold.
Liability
All works will be handled with care, however neither Swarthmore nor DVAL will be liable for damage or loss.
Volunteers
Participants are required to help with this show.
Contact Show Coordinator Sara McKelvey
[email protected]
for assignment schedule.
The committee reserves the right to reject all work that does not conform to DVAL policies and Procedures.
Additional Notification Information
Notifications will be emailed by the end of the day on September 11, 2023. We cannot respond to inquiries regarding the status of notifications before then.
Please add [email protected] to your email safe senders list.
After notifications are sent, you may view the status of your entry in your ShowSubmit artist account's Entry History. Accepted works will be notated by a green check.

If you do not receive your email, you may also view your notification letter using the View Notification link in your Entry History.

Note: Entries made prior to 2023 may not display the View Notification link.
Image and Filename Specifications
You do not need to resize or rename your image files.
Submit your original JPEG image files.
Crop out all parts of the photo that are not the actual work; do not show mat, frame, etc, only the work itself.
Image files are automatically resized to 300 dpi and 1500 pixels on the longest edge.
Image files are automatically renamed using your last name, first initial and the title of the work. e.g. Hamby_D_BeautifulDay.jpg
Additional Entry Information
You will pay for your entry by credit or debit card using our secure checkout system.
After your entry is submitted and paid for, you may log back in to review your entry, edit artist and image information, and add or substitute images up until the entry deadline (September 7, 2023.)
Entry fees are not refundable and must be submitted and paid by the entry deadline.
Entries cannot be accepted or changed after the deadline. Incomplete entries will be disqualified.
Support
For questions about the entry process or this website please contact ShowSubmit Support at [email protected]. We will get back to you between 9am and 6pm Eastern Time, Monday to Friday. You can also view the Support Center, Entry Guide, or our FAQ.