This call for entry has closed and the information below is for reference only.
Looking for open calls for entry? View open calls
Looking for the GLPS 2023 Members Juried Exhibition gallery? View the online art gallery
Great Lakes Pastel Society
2023 Members Juried Exhibition
Members Only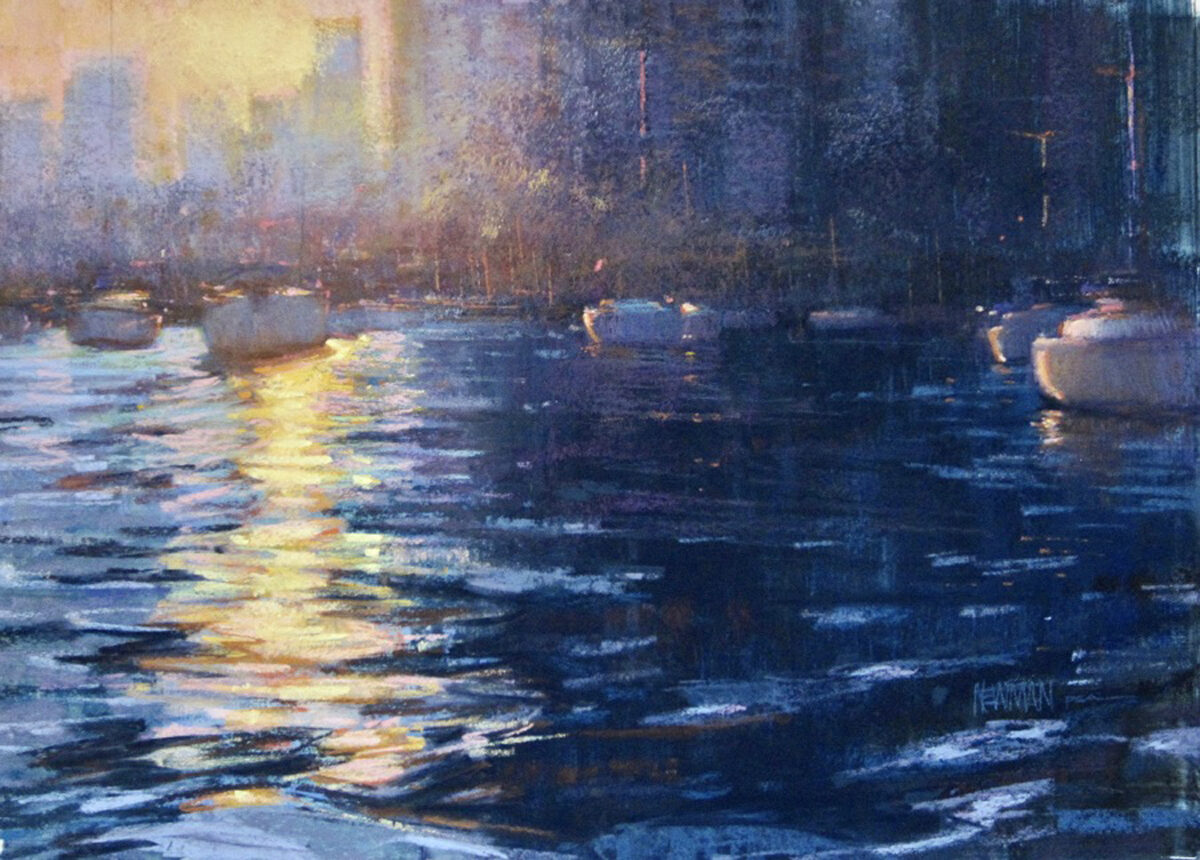 Into the Sun by Kathleen Newman
Deadline for entry was

May 8, 2023
Hosted by:
Crooked Tree Arts Center
322 6th St, Traverse City, MI 49684


Phone: 231-941-9488
Hours: Tues – Fri 11-5:00, Sat 10-4:00 (ET)


Juror/Judge of Awards
Kathleen Newman combines a sense of focused observation and sensitive interpretation in her award-winning pastel and oil paintings, specializing in harbor settings, landscape and urban living. She has received the honor of Eminent Pastelist from the International Association of Pastel Societies, is a Chicago Pastel Painters Master, and a Signature Member of the Pastel Society of America, the American Impressionist Society, the American Society of Marine Artists, and the American Transparent Watercolor Society. Her work is held in many private collections as well as the Ritz Carlton Orlando, Ameritech, IBM, MCI, Disney, Deloitte, American Dental Association and recent additions to Prentice Hall, Northwestern Memorial Hospital. She currently teaches online and in-person pastel, watercolor and urban sketching classes at the historic Old Town Art Center in Chicago as well as workshops throughout the country.
MANY CASH AND PRODUCT AWARDS, 50-75 ARTWORKS WILL BE ACCEPTED.
Eligibility
Open to any GLPS member pastel artist 18 years and older (student exception, see NEW SPECIAL CATEGORY below).
GLPS 2023 member dues must have been paid by March 31, 2023 to enter this show.
Work done under supervision in a class or workshop is NOT ELIGIBLE.
Painting must be at least 80% soft pastels and identical to the accepted image.
No copies from other artists or based on published images by other artists or photographers.
Work may not be created on top of a photographic image.
Artwork size restrictions: no larger than 36" in height or width including frame.
Work must have been completed in the last three years and not have been shown in any previous GLPS exhibit or at Crooked Tree Arts Center.
Nude artwork will be accepted, but the GLPS and CTAC reserve the right to exclude any artwork deemed offensive or against US laws.
NEW SPECIAL CATEGORY
North American student artists age 16 – 24 can enter this exhibit, no GLPS membership necessary. Select STUDENT for your membership status in the entry form. GLPS will award the $100 Jim Markle Memorial Student Award to one deserving student. All artwork rules set forth in this prospectus apply. Enter through showsubmit.com and list your age and name of school/college you are attending. Students whose artwork is accepted will be required to upload a valid student ID, and will receive a free one-year membership to GLPS.
Entry Fee
Up to 5 image entries per artist.
Entry fee for 1st image is $35.
For images 2-5, $5 each.
Student Entry Fee: $20 for 1st image, $5 each for images 2-5.
Entry fee is nonrefundable and must be paid at time of entry online.
Online Entry
When entering online with ShowSubmit for the first time, you will need to
create an Account
. Record your password because you will reuse it for all future shows handled by ShowSubmit. A step-by-step guide for entry can be found here,
Entry Guide
. When filling out your artwork information for this show, please be sure all information is correct – spelling, title, pricing of artwork. All information is input by the artist and is used AS IS by GLPS for reference, printed material, and online postings. Changes and additions can be made until the entry
deadline, May 8.
At the end of your entry process, payment can be made using a valid credit card. All entries must be
paid for by the entry deadline
or your entry process is not complete.
Once the deadline passes, you cannot make any further changes to your entries.
If you need help with the online entry system, please contact ShowSubmit at
[email protected]
Framing & Presentation
Accepted works must be delivered framed and ready to hang. Frames must use wire for hanging. Damaged framing will disqualify artwork from the exhibit. Repair will be financial responsibility of artist.
Sales & Exhibit Rules
All work MUST BE for sale at a 60/40% commission.
Student commission: 70/30%.
Extremely overpriced work will be disqualified.
No price changes once submitted upon entry. No work will be released before the close of the exhibit.
Special Rule
If an accepted artist breaks the exhibit rules stated in this prospectus in any way, they will be banned from participating in future GLPS exhibits for 5 years. This includes non-delivery of accepted artwork and picking up artwork before the final exhibit date.
Delivery & Pickup of Shipped Work
If accepted, shipped work MUST INCLUDE a prepaid return shipping label. If shipping/drop-off/pick-up dates do not work, please email
[email protected]
to make special arrangements.
If someone other than the artist is picking up artwork, permission must be given to other party IN WRITING.
Additional Rules
If shipping artwork, NO PACKING PEANUTS ALLOWED.
NO WORK PACKED WITH PEANUTS WILL BE HUNG IN THE SHOW.
If two works are shipped together, they must be individually boxed inside the main container.
Shipping boxes and all interior boxes must be labeled with artist's name.
For work hand delivered, ALL bubble wrap, plastic bags, etc. must leave with the artist.
Questions?
YOU MUST HAVE PAID YOUR GLPS DUES BY MAR. 31, 2021 AND RECEIVED PAYMENT CONFIRMATION BEFORE ENTERING THIS SHOW.
Additional Notification Information
Notifications will be emailed by the end of the day on May 30, 2023. We cannot respond to inquiries regarding the status of notifications before then.
Please add [email protected] to your email safe senders list.
After notifications are sent, you may view the status of your entry in your ShowSubmit artist account's Entry History. Accepted works will be notated by a green check.

If you do not receive your email, you may also view your notification letter using the View Notification link in your Entry History.

Note: Entries made prior to 2023 may not display the View Notification link.
Image and Filename Specifications
You do not need to resize or rename your image files.
Submit your original JPEG image files.
Crop out all parts of the photo that are not the actual work; do not show mat, frame, etc, only the work itself.
Image files are automatically resized to 300 dpi and 1500 pixels on the longest edge.
Image files are automatically renamed using your last name, first initial and the title of the work. e.g. Hamby_D_BeautifulDay.jpg
Additional Entry Information
You will pay for your entry by credit or debit card using our secure checkout system.
After your entry is submitted and paid for, you may log back in to review your entry, edit artist and image information, and add or substitute images up until the entry deadline (May 8, 2023.)
Entry fees are not refundable and must be submitted and paid by the entry deadline.
Entries cannot be accepted or changed after the deadline. Incomplete entries will be disqualified.
Support
For questions about the entry process or this website please contact ShowSubmit Support at [email protected]. We will get back to you between 9am and 6pm Eastern Time, Monday to Friday. You can also view the Support Center, Entry Guide, or our FAQ.