Monmouth Museum
New Jersey Emerging Artists
2023-2024
Open to Non-Members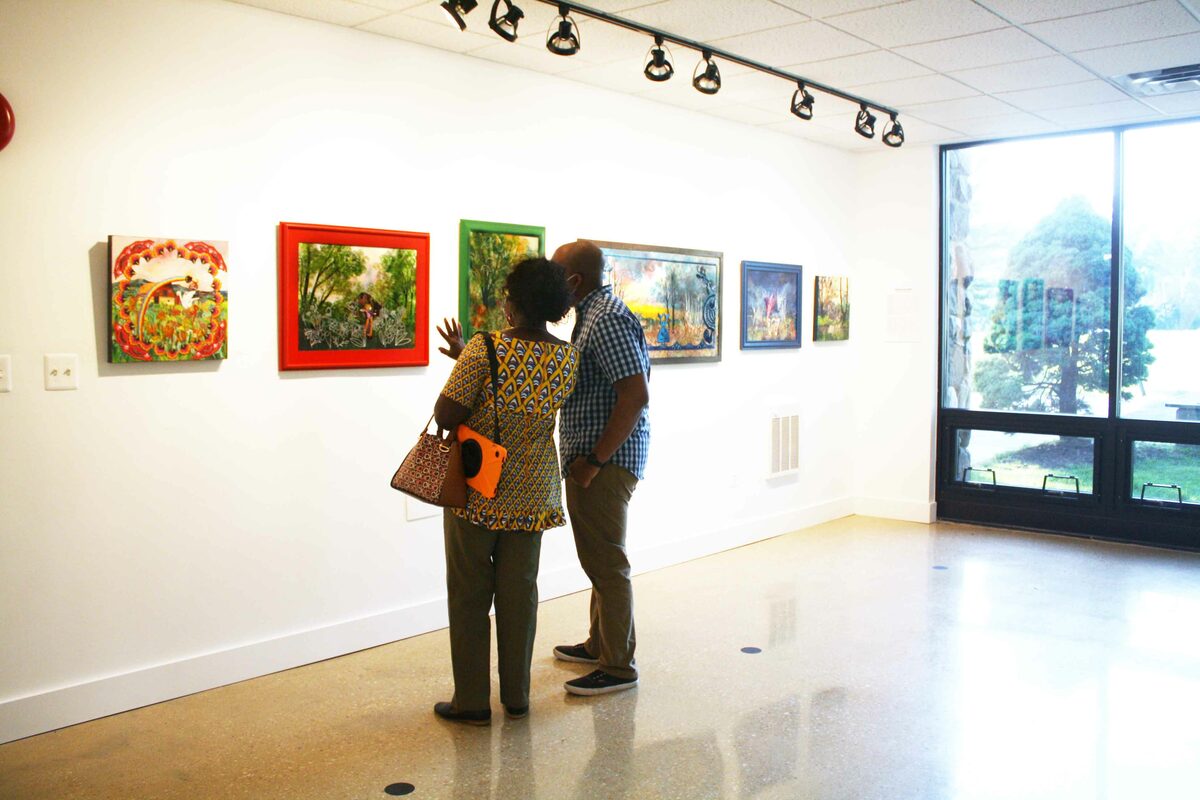 Deadline for entry was

August 31, 2023
The Monmouth Museum is committed to providing opportunities for New Jersey artists. New Jersey Emerging Artists started in 2007 to give a platform to local artists who have yet to exhibit their work in a solo-show and create a nurturing environment to develop their careers. We have worked with over 70 local artists since the program's inception and it has become a popular staple at our museum.

Each New Jersey Emerging Artists series consists of six monthly solo exhibitions where artists are given a platform to exhibit their work and are guided through the stages of a solo exhibition including the installation of the show. Artists are also provided promotional material and an opening reception by the museum.

The focus of the upcoming Emerging Artists Series will be representing the underrepresented in the arts, as it applies to all fields and disciplines. We look to thoughtfully engage a broad group of emerging artists and prioritize diversity in all areas, including gender, age, background, socioeconomic level, sexual orientation, ethnicity, and the special needs community. The focus is to encourage the artistic expression of those artists underrepresented in the art world, at their point of emerging in their next career level as an artist. By creating a platform and providing a voice to these diverse perspectives, the exhibits can provide an inclusive and interactive space for artistic exploration and support a collaborative environment for attendees.
Jurors
Monmouth Museum Emerging Artist Selection Committee. Our selection committee is comprised of art industry professionals from a variety of disciplines including art gallery representation, art appraisal, graphic arts, museum professionals, art and museum educators, fine artists and Emerging Artist Alumni. We use this judging format to provide diverse and informed insight to provide a well-rounded platform for selection of artworks. Submissions will be judged on creativity, originality, technique/skill, presentation, and overall quality.
Eligibility
This exhibition opportunity is open to any artist who is a full-time resident of New Jersey, at least 18 years of age, and has not had a solo exhibition at a Museum.

If selected, proof of New Jersey residency is required.
Submission Guidelines
Artists are required to submit digital images and entry online via their own ShowSubmit account. After reading the following prospectus, at the bottom of this webpage you will find the button/link to create or log in to your ShowSubmit account. This is the first step in submitting your artwork/s for consideration. There is no cost to create a ShowSubmit account.
The museum will not accept submissions via email or mail.
Artwork will be considered in all media (drawing, print, painting, mixed media work, photography, sculpture, etc.)
Submissions should include 10 images of different artworks per portfolio. Your submitted portfolio should be cohesive in artistic vision and media, but not repetitive. Do not include works that distort or confuse your artistic vision as represented in your statement.
Images must be representative of the artwork which will be exhibited if you are selected.
The museum reserves the right to reject work delivered at the time of the exhibition which does not represent the artist's accepted work.
The submission fee is $20 (per portfolio of 10 artworks). There are no refunds.
Reproductions of original works in the form of photocopies or commercial prints will not be accepted as show substitutes for original pieces. All artwork entered must be the artist's original creations. Giclée reproductions of original works will not be accepted. Prints of digitally created art and photography are permitted.
Any work derived from another source must identify and credit the source to avoid copyright infringement.
Submitted artwork should not be more than 5 years old.
All submitted artwork must be for sale.
Selected artwork must be wired, framed (if media applicable), and ready to hang (no saw-tooth hangers, no magnets).
Artwork must be available for the duration of the exhibition.
Accepted artists may not have another solo museum show in or outside of NJ until after the Emerging Artist show at the Monmouth Museum has closed.
Sculpture must be less than 10 feet in height or width and able to fit through a standard door, 6 feet-6 inches. Pedestals cannot be guaranteed.
Mixed media works must list all media used for each piece.
Submissions must include
Contact Information (Name, Address, Phone and Email)
Artist Statement Summary: A 250 word maximum summary of your statement.
Artist Statement: Written in the first person (no more than 1 page) on the body of work submitted. Focus on how and why you create your art (media, subject matter, technique, inspirations, concepts and vision).
Please use proper spelling, grammar, and capitalization or you may be asked to rewrite/submit your statement.
Artwork Information (Each artwork must have a unique Title, Media, Size (H"xW"), Year completed and Price).
10 Images of different Artwork/s: Image must be in JPEG format and at least 1500px on the longest edge at 300 dpi/ppi.
Files are resized and renamed automatically for you. You do not need to rename your files.
Submission Fee
Fee
$20 per 10 image portfolio submission
Payment
Payment must be made at time of online submission of your entry/entries. Amex, Visa, MasterCard, Discover, Apple Pay and Google Pay are accepted through Stripe via ShowSubmit. There Are No Refunds.
FAQ
Remember to photograph the artwork only. Please do not include the frame, glass, or wall and crop the image when needed.
You must be a full-time NJ resident and identify yourself as such in reference to your artistic career.
After you make your submission you will receive a confirmation email. Make sure to check your spam folder.
You may log back in to edit your entry as much as needed up until the entry deadline.
Calendar
Announcement of Accepted Artists will be: September 29, 2023 via ShowSubmit by Midnight EST

All NJEAS exhibitions will be held in the Nilson Gallery. All Opening Receptions are free and open to the public.
Sale of Artwork
Work must be for sale; NFS is not allowed.


The Monmouth Museum encourages the sale of exhibited artwork and all works included in the show must be available for purchase. The Museum will collect the purchase price for all work, take a 30% sales commission and issue a check for the remainder to the artist at the close of their exhibition.
Questions
For submission assistance and more information:
Carolyn Robertshaw
Visitor Engagement Coordinator
[email protected]
Additional Notification Information
Notifications will be emailed by the end of the day on September 29, 2023. We cannot respond to inquiries regarding the status of notifications before then.
Please add [email protected] to your email safe senders list.
After notifications are sent, you may view the status of your entry in your ShowSubmit artist account's Entry History. Accepted works will be notated by a green check.

If you do not receive your email, you may also view your notification letter using the View Notification link in your Entry History.

Note: Entries made prior to 2023 may not display the View Notification link.
Image and Filename Specifications
You do not need to resize or rename your image files.
Submit your original JPEG image files.
Crop out all parts of the photo that are not the actual work; do not show mat, frame, etc, only the work itself.
Image files are automatically resized to 300 dpi and 1500 pixels on the longest edge.
Image files are automatically renamed using your last name, first initial and the title of the work. e.g. Hamby_D_BeautifulDay.jpg
Additional Entry Information
You will pay for your entry by credit or debit card using our secure checkout system.
After your entry is submitted and paid for, you may log back in to review your entry, edit artist and image information, and add or substitute images up until the entry deadline (August 31, 2023.)
Entry fees are not refundable and must be submitted and paid by the entry deadline.
Entries cannot be accepted or changed after the deadline. Incomplete entries will be disqualified.
Support
For questions about the entry process or this website please contact ShowSubmit Support at [email protected]. We will get back to you between 9am and 6pm Eastern Time, Monday to Friday. You can also view the Support Center, Entry Guide, or our FAQ.