New Orleans Art Association
24th National Art Show
Open to Non-Members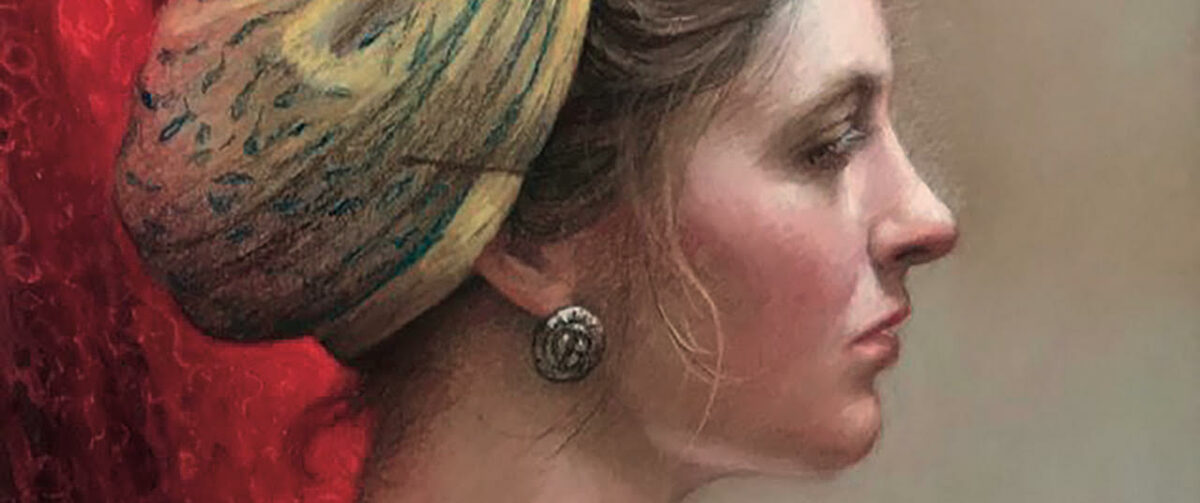 Paige from Life by Carol Peebles
Deadline for entry was

July 31, 2023
The New Orleans Art Association (NOAA) has renewed its commitment to produce an annual juried National Art Show for artists from the United States. The exhibit will be at The Building Art Gallery in October and November 2023. Cash awards will be presented for outstanding examples of the accepted artists' work.
You are cordially invited to participate and submit artwork entries and, if accepted, you should look forward to an exciting and pleasurable event here in New Orleans.
The Art Association of New Orleans dates back to 1887 and is one of the oldest art organizations in New Orleans. Please visit our website,
noartassoc.org
, to view our history in supporting and encouraging the development of fine art in New Orleans and Louisiana.
Requirements
A maximum of five (5) pieces of artwork may be submitted per artist. Diptych and triptych pieces shall be labeled and numbered as such.

The artwork shall consist of two dimensional (2D) works only. Artwork shall be original in design, concept, and execution, performed without supervision or instruction, by the submitting artist and completed within the past three years. The artist shall be eighteen years of age, or older at the time of entry(s) submittal.

Acceptable media shall be limited to paintings (oil, acrylic, water media, pastel, encaustic, and egg tempera) and drawings (Conte-crayon, colored pencil, graphite, charcoal, pen and ink, and scratchboard).

Non-acceptable media includes reproductions, prints, photography, videos, crafts, jewelry, three-dimensional (3D) works, textiles, fiber art, collages, montages, and any computer-generated elements.

The accepted artwork shall be dry and prepared with wire and screw-eyes or D-rings for hanging. Gallery-wrapped submittals (minimum 1 1/4 inches deep) shall have all edges finished/painted and all staples, hooks, etc., not visible on any edge. Artwork shall not exceed 60 inches in width and 80 inches in length, including the frame. Artwork shall not be smaller than 8 inches in length or width. The maximum weight is 35 pounds. Artists may be asked to help hang and remove heavy or large paintings.

Artwork that does not meet these eligibility criteria shall be excluded from the show and no refunds will be issued. The artist will be responsible to arrange for retrieval.
Juror
Dawn Emerson
, PSA,
dawnemerson.com
, is an accomplished artist, author, and instructor. In addition to videos and DVDs, her 2017 book "Pastel Innovations" inspires artists throughout the world.
Judge
James Michalopoulos
,
michalopoulos.com
, has exhibited in numerous museums including the Historic New Orleans Collection, Ogden Museum of Southern Art, and New Orleans Jazz Museum, and has produced several posters for the New Orleans Jazz and Heritage Festival.
Entry Process
The fee for one (1) to three (3) entries is $45, or $35 for NOAA members. Two additional entries may be submitted for $10 each. The juror may select up to two entries per artist.

A diptych or triptych ensemble shall be considered a single entry. A single digital image containing all of the pieces, and in the sequence desired by the artist, shall be submitted for entry. The groupings of either must be within the size limitation of 60 inches width and 80 inches length total for single entries.

ShowSubmit will notify the artist after the entry fee has been processed successfully. There will be no refunds after the entry fee is submitted.
Awards
Appropriate ribbons will be presented for the selected 1st Place ($2,500), 2nd Place ($1,250), 3rd Place ($750) and Honorable Mentions. Additional merit prizes may be awarded as deemed appropriate by the judge.
Acceptance Notifications
Notification of the juror's decision will be provided by e-mail from showsubmit.com. The juror may select up to two entries per artist.

A maximum of eighty (80) artworks will be exhibited. Artwork accepted must match that as depicted in the submitted digital images without exception. Failure to provide the accepted artwork might mean disqualification for any future entry in NOAA exhibits.

The juror's decisions are final.
Show Catalog
One catalog shall be provided to each entrant depicting entries, awards, recognitions and sponsor acknowledgements. Additional copies will be available at the exhibit for $10 each.
Sales
All accepted artwork shall be offered for sale. A commission of 30% of the sales price shall be retained by The Building. Prices shall remain fixed, and any pieces sold shall remain in the exhibit until final close of show. Sales personnel will be available during the show days and hours.

Work must be for sale; NFS is not allowed.
Artwork Delivery
Accepted artwork may be hand-delivered to The Building, 1427 Oretha Castle Haley Blvd, N.O. LA 70113 (Telephone 504-352-9283) on Monday, October 2, 2023 between 9:00 a.m. and 5:00 p.m. Deliveries prior to or after Monday, October 2, 2023 will not be accepted.

Artwork that requires handling and shipping shall be delivered to the receiving agent, A-Plus Shipping, between September 16 and 23, 2023. Shipping instructions will be provided with each acceptance notification. The artist is responsible for shipping cost to and from the show. In addition, there will be a handling fee of $75 for one painting, $95 for two paintings in one box, and $125 for two paintings in two boxes.

All accepted artwork shall remain on exhibit for the length of the show, including any sold items.
Artwork Takedown/Pickup
Retrieval of hand-delivered items is scheduled for Monday November 6, 2023 between 9:00 a.m. and 5:00 p.m. at The Building, 1427 Oretha Castle Haley Blvd, N.O. LA 70113 (Telephone 504-352-9283).

Return instructions for shipped artwork will be provided in the acceptance notification.
Additional Notification Information
Notifications will be emailed by the end of the day on August 8, 2023. We cannot respond to inquiries regarding the status of notifications before then.
Please add [email protected] to your email safe senders list.
After notifications are sent, you may view the status of your entry in your ShowSubmit artist account's Entry History. Accepted works will be notated by a green check.

If you do not receive your email, you may also view your notification letter using the View Notification link in your Entry History.

Note: Entries made prior to 2023 may not display the View Notification link.
Image and Filename Specifications
You do not need to resize or rename your image files.
Submit your original JPEG image files.
Crop out all parts of the photo that are not the actual work; do not show mat, frame, etc, only the work itself.
Image files are automatically resized to 300 dpi and 1500 pixels on the longest edge.
Image files are automatically renamed using your last name, first initial and the title of the work. e.g. Hamby_D_BeautifulDay.jpg
Additional Entry Information
You will pay for your entry by credit or debit card using our secure checkout system.
After your entry is submitted and paid for, you may log back in to review your entry, edit artist and image information, and add or substitute images up until the entry deadline (July 31, 2023.)
Entry fees are not refundable and must be submitted and paid by the entry deadline.
Entries cannot be accepted or changed after the deadline. Incomplete entries will be disqualified.
Support
For questions about the entry process or this website please contact ShowSubmit Support at [email protected]. We will get back to you between 9am and 6pm Eastern Time, Monday to Friday. You can also view the Support Center, Entry Guide, or our FAQ.