Pastel Society of America
Enduring Brilliance!
Members Online Exhibition
Members Only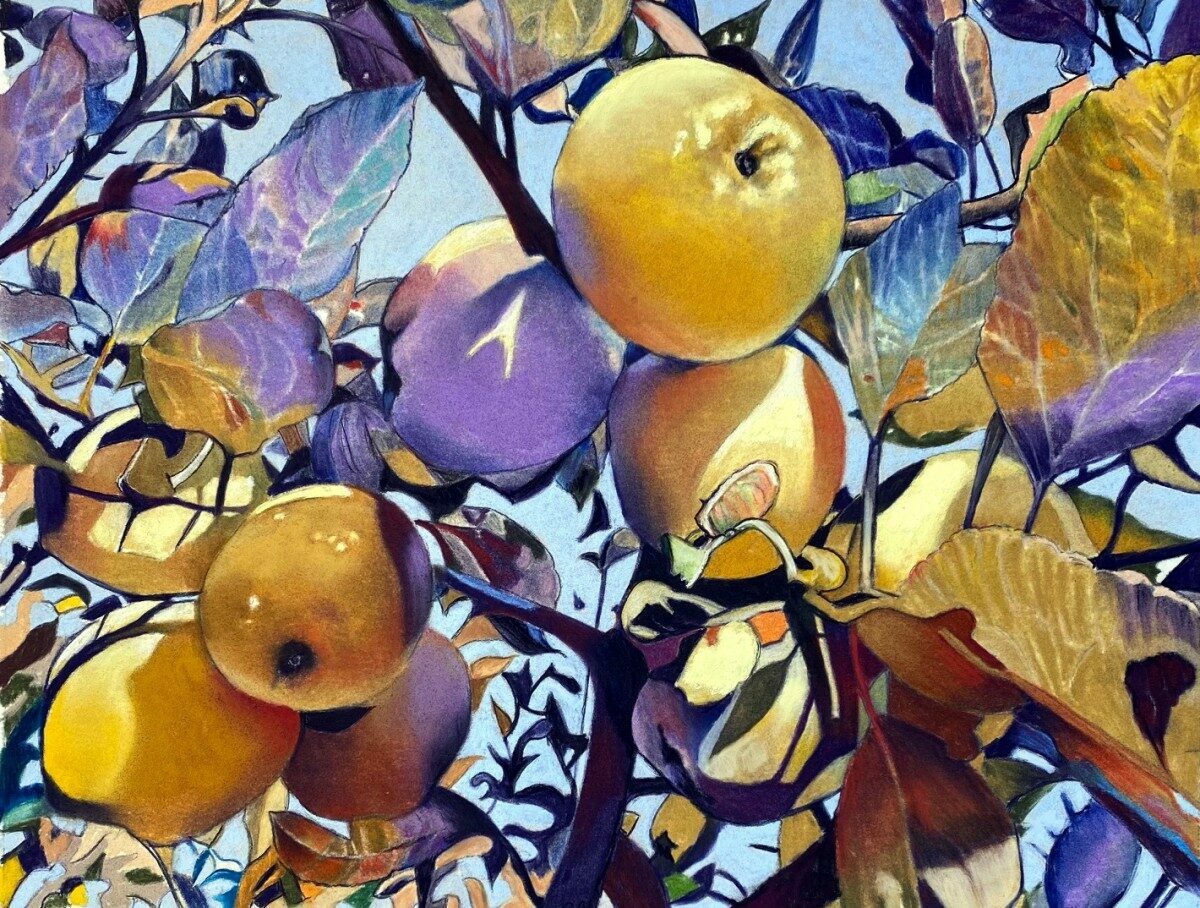 Yellow by Joe Kluck PSA-MP
Deadline for entry was

June 1, 2023
Awards
$40,000 in cash and material awards.
Eligibility
Open to all PSA members who have an up-to-date membership. Apply for membership by April 10, 2023 to be eligible to submit paintings to the exhibition.
The PSA Annual must be the first showing of each artwork. Paintings may not have been accepted in any previous major exhibition and should not have been published either in print or digitally before the PSA opening. Accepted artwork may not be exhibited concurrently in other shows, including virtual shows. (This rule does not refer to posting the work online in social media posts, artist blogs, artist webpages, or commercial art gallery websites representing the artist.)
Works must be in dry pastel. No oil pastels. Mixed media must be predominantly dry pastel.
Artwork's final surface must be 80% traditional dry pastel.
Work must be original and from your own reference, not copied from other artists or published materials.
Any reference provided by an instructor is not eligible, including an instructor-provided photo, still-life setup, or model setup.
Work that was done in a classroom, workshop, or in an online group scenario is not eligible.
All artwork must be originally drawn and not created on top of any type of photographic image.
There are no size limitations for this exhibition.
All subjects and styles are eligible, from traditional to contemporary.
Artwork must have been created in the past four years.
Artwork must be for sale. No NFS or POR.
Failure to meet any of the requirements for eligibility will result in the artwork being disqualified. PSA reserves the right to exclude from the exhibition any artwork deemed offensive or any artwork that violates the laws of the United States.
Foreign Entries
We require that all artists submit their own applications individually. Entries submitted through an international or national art broker, or by a second party of any kind, will be disqualified and therefore will not be processed.

As a result, all award payments will be paid directly to the artist through their individual PayPal account. No award payments will be made to second-party accounts.
Entry Fees
PSA members: flat fee of $50 for one, two, or three entries.
Entry fee is non-refundable.
Your 2023 annual dues must be paid in full to enter as a PSA member. ShowSubmit will not process member dues at the time of entry. You must complete the membership dues transaction through the PSA website at
pastelsocietyofamerica.org
Notification
Up to three entries may be submitted. No more than one painting per artist will be accepted for the exhibition. All artists will receive notification by email after jurying is complete. Please add
[email protected]
to your safe senders list to ensure email delivery.
Jurors and Judge
A panel of three Master Pastelist jurors will select the entries to be accepted for the exhibition and a distinguished professional will be juror of awards.
Judge of Awards
Diana Thompson, Director of Collections, National Academy of Design, steward of one of the most significant collections of American art and architecture in the world. With nearly 8,000 works—including painting, sculpture, works on paper, architectural renderings and models, and more—the collection is unique in that it has been assembled largely through donations. These donations, called Diploma Works, represent the more than 2,400 artists and architects who have been elected as National Academicians since 1825.
Jurors of Selection
Oregonian Richard McKinley has devoted over 50 years to painting in pastel and oil, writing about art matters, and instructing painting workshops. He is in the permanent collection of the Butler Institute of American Art Museum and holds artist membership at the historic Salmagundi Club in NYC. He is a Pastel Society of America Master Pastelist and Hall of Fame inductee, a Pastel Society of the West Coast Distinguished Pastelist and Pastel Laureate, and an Eminent Pastelist with the International Association of Pastel Societies and he has served as the organization's president since 2017. His work has been featured in numerous national / international art publications and exhibitions and he's the author of Pastel Pointers, Top Secrets for Beautiful Pastel Paintings and The Landscape Paintings of Richard McKinley in Oil and Pastel.
New Orleans artist
Sandra Burshell,
a PSA Master Pastelist and IAPS Eminent Pastelist, creates figurative and interior pastels. Her moody, atmospheric pastels have been featured in
Pratique Des Arts' Special Pastel Issue:
"La Figure Dans Tous Ses Etats"
, Pastel Journal Magazine:
"The Romantic Space,"
Pastel Artist International:
"Ambience You Can Cut with a Knife",
Artist's Magazine:
"Creating Movement with Light",
and American Artist Magazine:
"Picturing What People Leave Behind". Represented by Carol Robinson Gallery, New Orleans, LA since 1999, she was one of 13 female U.S. pastel artists invited to "Pastels of the World", Bourbonnais, France, 2022. Sandra founded the New Orleans Drawing Group (2005), live figure sessions, now in Zoom format.
sandraburshell.com

A native of upstate New York, Susan M. Story works in the landscape that inspired the Hudson Valley School. A Signature Master Pastelist, Story serves on the PSA Board of Governors and has IAPS Master Circle status. She is a juried member of the Salmagundi Club and other prestigious art organizations. Story has been featured in Pratique des Arts magazine, Pastel Journal and the book Pure Pastel: Contemporary Works by Today's Top Artists by Anne Hevener. Her recent honors include: Grand Prize, Horace Champagne from the PSEC; Art Spirit Foundation Gold Medal, 138th Salmagundi Club's Members Exhibit; PSC's President's Award at the PSA Annual; and the IAPS Award for Excellence Online MC Exhibit.
Past Award Jurors of Distinction
2015 Linda Downs, College Art Association
2016 Dr. Mark D. Mitchell, Yale University Art Gallery
2017 Charlotta Kotik, Brooklyn Museum
2018 Calvin Brown, Princeton University Art Museum
2019 Dr. Marcus Burke, Hispanic Society of America
2020 Marjorie Shelley, Metropolitan Museum of Art
2021 Dr. Emily Beeny, Fine Arts Museums of San Francisco
2022 Dr. Louis A. Zona, Butler Institute of American Art
Exhibition Chair
PSA President Jimmy Wright serves as the exhibition chair.
Additional Notification Information
Notifications will be emailed by the end of the day on July 7, 2023. We cannot respond to inquiries regarding the status of notifications before then.
Please add [email protected] to your email safe senders list.
After notifications are sent, you may view the status of your entry in your ShowSubmit artist account's Entry History. Accepted works will be notated by a green check.

If you do not receive your email, you may also view your notification letter using the View Notification link in your Entry History.

Note: Entries made prior to 2023 may not display the View Notification link.
Image and Filename Specifications
You do not need to resize or rename your image files.
Submit your original JPEG image files.
Crop out all parts of the photo that are not the actual work; do not show mat, frame, etc, only the work itself.
Image files are automatically resized to 300 dpi and 1200 pixels on the longest edge.
Image files are automatically renamed using your last name, first initial and the title of the work. e.g. Hamby_D_BeautifulDay.jpg
Additional Entry Information
You will pay for your entry by credit or debit card using our secure checkout system.
After your entry is submitted and paid for, you may log back in to review your entry, edit artist and image information, and add or substitute images up until the entry deadline (June 1, 2023.)
Entry fees are not refundable and must be submitted and paid by the entry deadline.
Entries cannot be accepted or changed after the deadline. Incomplete entries will be disqualified.
Support
For questions about the entry process or this website please contact ShowSubmit Support at [email protected]. We will get back to you between 9am and 6pm Eastern Time, Monday to Friday. You can also view the Support Center, Entry Guide, or our FAQ.