Pastel Society of Maine
Pastels Only
23rd Annual Open Juried Exhibition
Open to Non-Members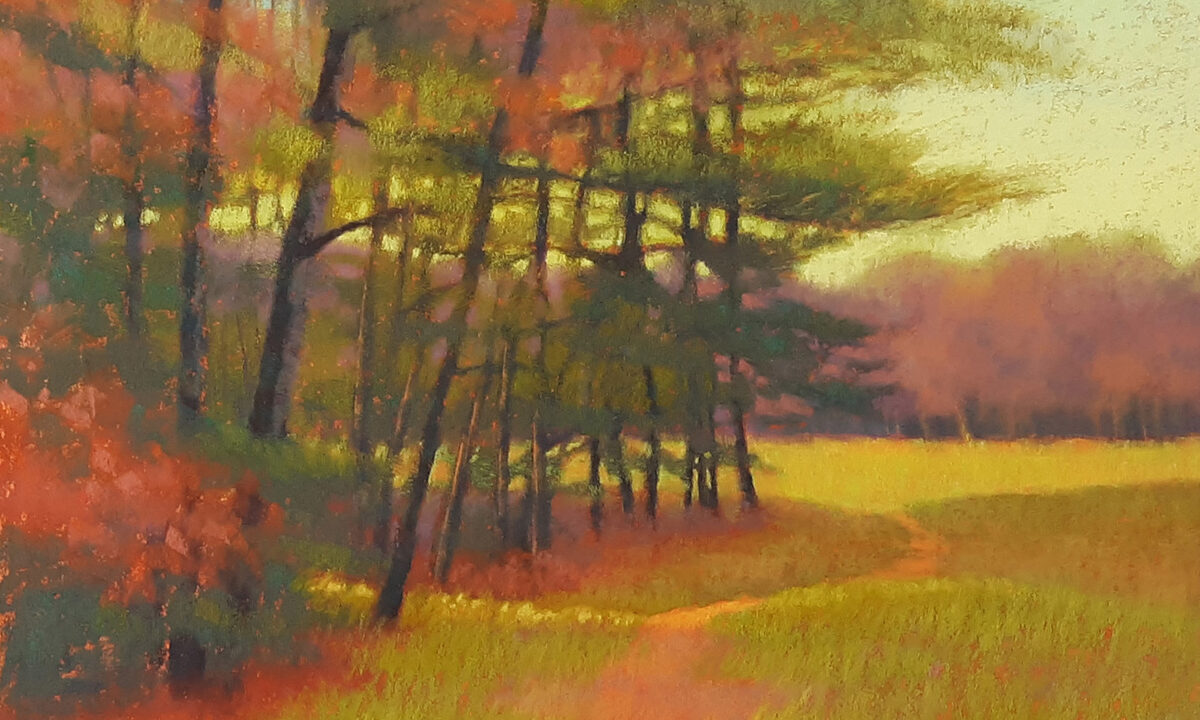 The Clearing by Diana Johnson
Deadline for entry was

July 31, 2023
Awards
$1,000 Best in Show and Up to $5,000 in Cash and Merchandise Awards
Juror of Selection and Awards
Tara Will
Eligibility
Open to all soft pastel artists.
All subjects and styles are acceptable, but PSME reserves the right to reject any works deemed inappropriate.
Paintings must be artist's original design and composition, not copied from any other artist's work, not painted in a class or workshop under instructor supervision and using only artist's photographs and sketches.
Work must be completed after January 2020 and visible painting surface be 80% soft pastels. No oil pastel.
All work must be for sale; no NFS or POR allowed. Price changes after acceptance of submission is NOT ALLOWED. If accepted work is sold prior to the show, it becomes disqualified from the competition and artist is banned from PSME juried exhibitions for two years.
Paintings that have won top awards (1st, 2nd, or 3rd) in any National or International juried pastel competition may NOT be submitted.
Paintings previously shown in Pastel Society of Maine juried competitions may NOT be submitted. Do NOT submit a painting which is simultaneously being shown in another national or international juried art competition.
Size limit is 40" including frame, in either direction.
Work must be clean, securely framed to gallery framing standards, and ready to hang. Please, no sawtooth hangers, dirty mats, or incomplete framing (screws, wires) allowed. If mats are used, neutral colors such as grey, white, off white, or black are permitted.
Entry Fee
PSME Member fees
1 to 2 images: $35; 3 images: $45,
PSME membership dues must be current.


Non-member fees
1 to 2 images: $40; 3 images: $50

Each artist may submit up to three entries. A maximum of 2 pieces per artist may be juried into the show.


Entry fees are not refundable and must be paid by the entry deadline.


Incomplete entries will be disqualified.
Sales
Work must be for sale; NFS is not allowed.

30% commission on sales will be taken to the museum. Artist is responsible to arrange shipping, collect postage from their buyer, or otherwise arrange delivery of sold painting.


Paintings are expected to remain on display at the Brick Store Museum until Dec. 19, 2023. Sold paintings may be removed during the show only by permission of the Show Co-Chair.
Shipped Work
Shipped works are due August 20-28, 2023. There is a $20.00 handling fee per artist for all shipped work. Suggested use of Airfloat boxes or other padded container for your artwork – no loose packing materials or peanuts. Use either FedEx or UPS for your shipment. Enclose labels, a check to PSME for $20 handling, and prepaid postage in your box. All fees and costs are the responsibility of the artist. Artists are encouraged to carry their own insurance.


Shipping instructions will be sent with acceptance letters.

Shipped works must be sent to this address no later than August 28:


Brick Store Museum/Pastels Only
117 Main Street,
Kennebunk, ME 04043
Questions
Workshops
Tara Will, Workshop Instructor
Tara Will is a master pastellist known for her expressive mark making, spontaneous, vibrant color, and perfect values, working mostly in the landscape.

2 day workshop: Sept 10-11, 2023
Mark making and Value
Members: $375 Non-members: $400

3 day workshop: Sept 12-14, 2023
Color Contrast
Members: $560 Non-members: $600

Or take all 5 days:
Members: $800 Non-members: $850

Location: (Lodging and meals available)
Ferry Beach Retreat & Conference Center,
5 Boardwalk Drive, Saco, ME. 04072

Tara will isolate specific concepts with fast-paced demos and targeted exercises.

In the 3 day segment she will clearly unpack and make understandable Itten's complex theory of color and contrast, so you can make its use practical in your own work.

Come to these inspiring workshops, which will invigorate your art practice.
See www.PastelSocietyofMaine.org for more workshop info and registration options. Opens to members April 1, nonmembers April 10.
Additional Notification Information
Notifications will be emailed by the end of the day on August 10, 2023. We cannot respond to inquiries regarding the status of notifications before then.
Please add [email protected] to your email safe senders list.
After notifications are sent, you may view the status of your entry in your ShowSubmit artist account's Entry History. Accepted works will be notated by a green check.

If you do not receive your email, you may also view your notification letter using the View Notification link in your Entry History.

Note: Entries made prior to 2023 may not display the View Notification link.
Image and Filename Specifications
You do not need to resize or rename your image files.
Submit your original JPEG image files.
Crop out all parts of the photo that are not the actual work; do not show mat, frame, etc, only the work itself.
Image files are automatically resized to 300 dpi and 1500 pixels on the longest edge.
Image files are automatically renamed using your last name, first initial and the title of the work. e.g. Hamby_D_BeautifulDay.jpg
Additional Entry Information
You will pay for your entry by credit or debit card using our secure checkout system.
After your entry is submitted and paid for, you may log back in to review your entry, edit artist and image information, and add or substitute images up until the entry deadline (July 31, 2023.)
Entry fees are not refundable and must be submitted and paid by the entry deadline.
Entries cannot be accepted or changed after the deadline. Incomplete entries will be disqualified.
Support
For questions about the entry process or this website please contact ShowSubmit Support at [email protected]. We will get back to you between 9am and 6pm Eastern Time, Monday to Friday. You can also view the Support Center, Entry Guide, or our FAQ.