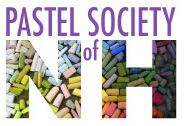 Pastel Society of New Hampshire
18th Members' Exhibition
Members Only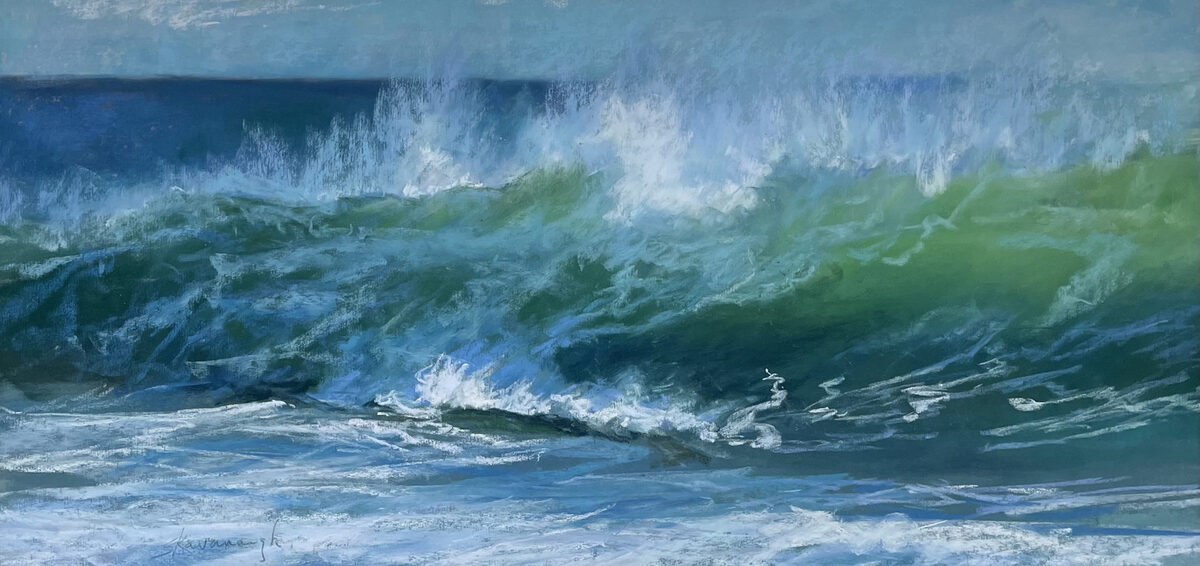 Atlantic Fury by Sandra M Kavanaugh
Deadline for entry was

May 24, 2023
General comments
This show is open to all active Pastel Society of New Hampshire members.
Eligible work and information
Open to all active Members of PSNH.
All work must be at least 80% soft pastel.
Work must be completed within the the last three years and not from a workshop or other teacher instruction.
Work cannot be exhibited in another show concurrently and must be for sale.
To encourage artists growth, paintings should not have previously won any award in this or other pastel society show.
Paintings should be ready to hang by wire, not sawtooth hanger.
Sales
Work must be for sale; NFS is not allowed.

All sales of artwork will be subject to a 25% commission on sales made during the exhibition.

PSNH is NOT charging a commission

The Gallery has advised us they have a good sales history, a sold painting will taken immediately by the buyer and replaced by another painting by the same artist.
Any sale will be handled by the gallery, The director of the gallery will be allowed to replace sold artwork with a painting by the same artist from artwork available.
All monies due the artist will be paid within 30 days after the close of the exhibition.
We want to encourage new artists to participate, and have 2 unique awards
Would you like to be considered for the "Hole in One award" or "PSNH Aspiring Artist Award, which recognizes an aspiring artist?

Qualification
A painter who has not yet received a prize or award for any of their paintings. Be sure to let us know by checking the box in the entry application.
Entry Fee
Open to all active Members of PSNH.
$30 for up to two paintings.
There is not an acceptance juror, all paintings are eligible.
Your entry as a member with 2023 dues paid allows 1 or 2 paintings for $30, submitted.
Entry fees are not refundable and must be paid by the entry deadline.

Incomplete entries will be disqualified.
Please note 1 work will be accepted, hung, and judged for AWARDS. The second work will be hung if your first sells during the show, but not eligible for awards. Please see page 2 of the prospectus for the Consignment Agreement that must be signed and delivered with your artwork on May 26th.

For additional criteria, please download the prospectus.

Awards Judge
Thomas Bailey
Signature Member PSA, Masters Circle International Pastel Society
Awards
Prizes! Over $1700 cash and merchandise


Best in Show: $300
First Place General Membership: $250
First Place Signature Membership: $250
2nd Place: $200
3rd Place: $150
PSNH Abstract Award: $100
PSNH Still Life: $100
Judith McKenna Landscape Award: $100.
Marilyn Bok Portrait Award: $100
*Sally Shea Hole in One Award $100
awarded to an artist that has never received an award
*PSNH Aspiring Artist MERCHANDISE
awarded to an artist that has never received an award
Questions
Any questions please contact:
Paula Fraser PSNH Chair. Phone 508 341 5952
Image and Filename Specifications
You do not need to resize or rename your image files.
Submit your original JPEG image files.
Crop out all parts of the photo that are not the actual work; do not show mat, frame, etc, only the work itself.
Image files are automatically resized to 300 dpi and 1500 pixels on the longest edge.
Image files are automatically renamed using your last name, first initial and the title of the work. e.g. Hamby_D_BeautifulDay.jpg
Additional Entry Information
You will pay for your entry by credit or debit card using our secure checkout system.
After your entry is submitted and paid for, you may log back in to review your entry, edit artist and image information, and add or substitute images up until the entry deadline (May 24, 2023.)
Entry fees are not refundable and must be submitted and paid by the entry deadline.
Entries cannot be accepted or changed after the deadline. Incomplete entries will be disqualified.
Support
For questions about the entry process or this website please contact ShowSubmit Support at [email protected]. We will get back to you between 9am and 6pm Eastern Time, Monday to Friday. You can also view the Support Center, Entry Guide, or our FAQ.