Red Rock Pastel Society of Nevada
Orange
2023 International Exhibition
Open to Non-Members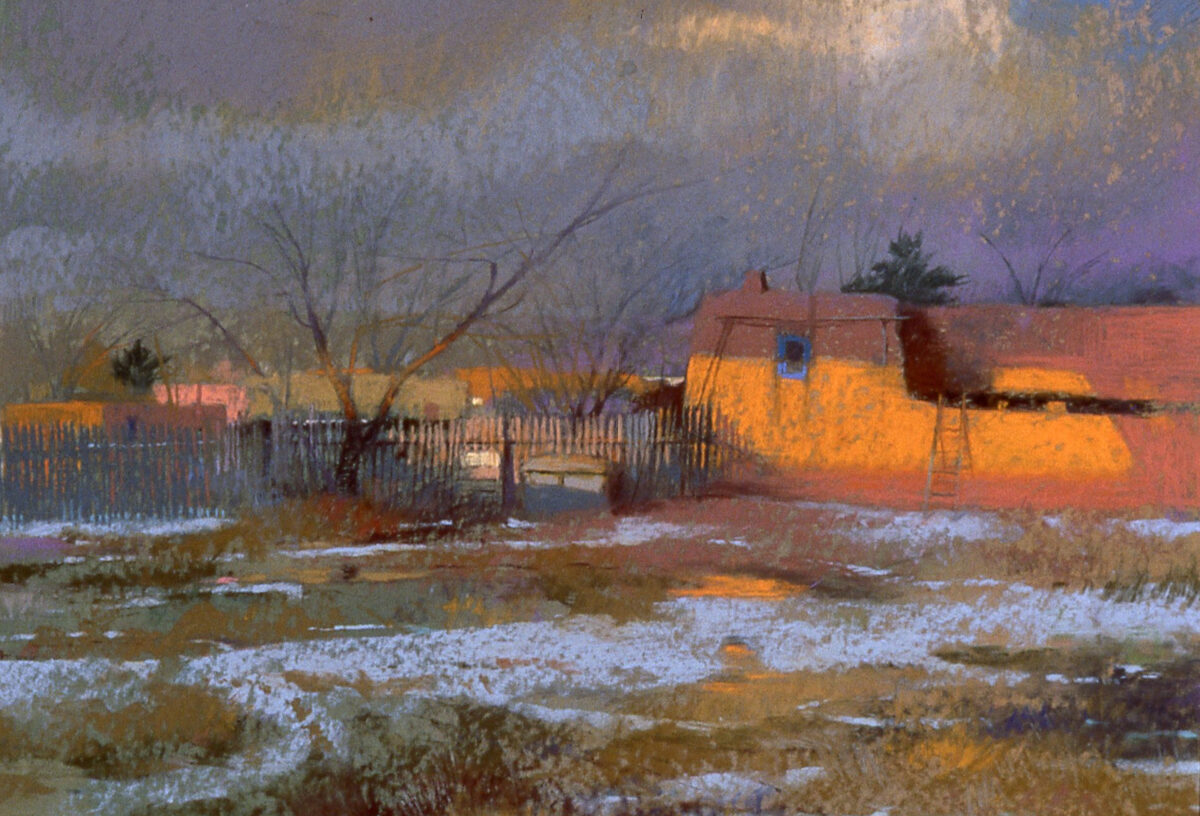 Late Afternoon Light by Albert Handell
Deadline for entry was

August 3, 2023
Venue
Priscilla Fowler Gallery
1308 S Main St, Las Vegas, NV


The Red Rock is beyond excited to announce our second live exhibition in Las Vegas, NV! Our first RED Exhibition was a huge success, and we are looking forward to presenting your work in the new gallery with a pristine location in the heart of the Art District of Las Vegas, NV.
Awards
Best in Show - $1000 or a sponsor-provided prize of equal or greater value
1st - $500 or a prize of equal or greater value provided by one of our Amazing Industry sponsors.
2nd - $200 or a prize of equal or greater value provided by one of our Amazing Industry sponsors.
3rd - $150 or a prize of equal or greater value provided by one of our Amazing Industry sponsors.
Honorable Mentions will be awarded Cash or Merchandize.
Jurors and Judge
A panel of three Jurors will select the entries to be accepted for the exhibition, and a Judge of Awards will choose the awards.
Judge
Albert Handell
Jurors
Senior Juror: Margaret Larlham
Juror: Corey Pitkin
Juror: Halla Shaffey


Red Rock Exhibition Chair/Curator: Dasha Jamison
Eligibility
Open to artists of all levels. Artists DO NOT NEED to have an active membership with the Red Rock Pastel Society of Nevada to be eligible to enter the show, but it is always encouraged.
You may join at
www.redrockpsnv.org/get-involved
Eligible Work
Please read carefully to make sure that your work meets the following entry requirements:


This is a themed show. The theme is ORANGE and your own artistic interpretation of it.
Your works must be done with dry pastel; the top layer must consist of at least 80% of dry pastel. No oil pastels can be used.
Only two-dimensional works are permissible. Pastel mosaic, sculpture, and digital pastel works are not eligible.
The work must be original, not copied from other artists or from any other published material. Works done from photographs made by someone other than the artist are not eligible.
Please withhold from entering any work that has been awarded major awards (Best in Show, I, 2, 3 places) in any other online or live shows.
All artwork must be originally drawn and not created on top of a photo or a print.
All works must have been created within the last three years.
Paintings of nudes will be considered for acceptance.
Not for Sale works (NFS) will NOT be accepted
Works done under supervision (such as in a workshop or class) are not eligible. Works done during or based on images from the unguided online sessions are eligible.
Work exhibited in 2019-2022 RPSNV Member Juried Exhibitions is not eligible.
Works accepted to 2023 Red Rock online exhibition and Tony Graduates Showcase are eligible to enter if it reflects the theme of the show, ORANGE, and meets other criteria.


Failure to meet any of the requirements will result in your work not being juried. No substitutions are allowed.
Entry Fee
For Non-Members:
$35.00 for the first image and $10.00 for each additional image.


For Members:
$25 and $10.00 for each additional image.


For Platinum Members:
$20 and $5.00 for each additional image.


Up to 5 images may be submitted by an individual artist. Entry fees are not refundable and must be paid by the entry deadline.
Online Entry
Entry is online only.

Please make sure you are entering the correct show. Follow the directions for entry. You do not need to have a PayPal account to pay the entry fee online, just a valid credit card.


Please use your best judgment on submitting the best quality of photo possible, there is no need to resize or rename your file, we may ask you to send a higher quality photo for catalog, make sure you have it.
Acceptance
Up to 5 entries may be submitted from an individual artist. The amount of the accepted images by the artist may vary at jurors' discretion and the wall space availability.
Questions
For questions about the prospectus, please send an email to Dasha Jamison at
[email protected]
Beginning October 1st, 2023, all accepted works will be displayed in-person at the Show Gallery. Even though the notification of accepted works will go out on August 15th, we kindly ask you to refrain from posting images of your accepted painting until the show is open.


All accepted works will be also displayed on the Red Rock Pastel of Nevada website, promoted on Red Rock Social Media, and included in the printed exhibition catalog. Please make sure you have your work photographed and available in high resolution for the catalog upon acceptance.
Framing of Artwork
All artwork needs to be framed, framed size needs to be specified in the submission.
Artwork Delivery
See your acceptance letter.
Sales
Not for Sale works (NFS) will NOT be accepted. All sales will be handled by the gallery. The details of the procedure will be provided to artists upon acceptance to the show. Commission of 50% will be charged by the gallery upon the transaction, the artist will get paid within 60 days after the show close date (October 29th, 2023).


The parts of the prospectus might change without notifying the entrant. By submitting your work to the Red Rock Show you give the RR permission to use the images for promotional purposes.
Judge of Awards
Albert Handell
At an early age, a favorite activity of his was drawing with chalks on the city streets of Brooklyn. On Saturdays From the age of 16, Handell was at the Art Students League of NY. Studying drawing and painting. From 1961 to 1965, Mr. Handell lived and traveled in Europe. Upon his return to the States and for his One Man exhibit at the famed ACA Gallery NYC, he included his first pastels with his oils. Handell has always painted in his studio and en plein air throughout his lengthy career. To stay fresh at his tender age of 86 (will be 87 in February 2023), for the past 25 years or so he has separated his 2 main painting mediums. He paints smaller works with pastel en plein air, and larger oils practically exclusively in the studio. After living in Woodstock NY 1970-1983 his passion for the woods, the trees, moving water, the mountain streams etc, these various subjects dominated and became foremost in his work. In Late 1983 he moved to Santa Fe, NM where he now still lives, the light and the colors of Northern NM took his breath away, and fast became an added favorite subject of his.

For the past 25 years Handell has held annual one man exhibitions at the Ventana Fine Art gallery in Santa Fe. He has had numerous Museum Exhibits, the last one was at the Butler Institute of American Art, Youngstown OH., 2007, He is part of their permanent collection, along with other museums, and numerous corporate and private collections. He has written 5 table top instructional books on his Oil and Pastel painting and teaching, and has had numerous articles in every magazine which deals with realism. He exhibits in Invitationals and National exhibits regularly. He has received his share of prizes and awards and is regularly asked to jury and judge National Exhibits. He is a master artist to name a few, in the Oil Painters Of America (OPA) and The American Impressionists Society. (AIS)


A well-known and sought-after workshop instructor, his teaching has become a second passion for him.

***Pastel Society of America Hall of Fame Honoree: 1987 Albert Handell PSA-MP (honors his special achievements in pastel painting)
You can find him on Instagram @alberthandell
Jurors of Selection
Margaret Larlham, PSA, IAPS/Eminent Pastelist

Margaret is an Eminent Pastelist of the International Association of Pastel Societies. Interested in both landscape and figurative subjects she regularly paints en plein air and in her garden studio. Her impressionistic style may derive from her former career as dancer, choreographer, theater director at San Diego State University and even earlier at Natal University, Durban, South Africa. In Margaret's own words: "I am in a landscape and the landscape is in me. When painting what I see I "become" a tree in the landscape. My sound is the breath and rustle of the pastel stick or brush on the surface of paper or canvas.I am interested in investigating more deeply the places familiar to me and also sharpening my responsiveness to the special character of new places I encounter along the way. I love the wild places of America, Africa and Europe. Direct painting is critical. If I don't go out to paint every day, wherever I am, I get a bit cranky with myself – so I try to avoid that for everyone's peace of mind! For larger studio paintings I use references of plein air sketches, photographs, and personal experiences."

Margaret Larlham's pastel work has garnered national and international attention. These days, with her own studio built in her garden, she is able to paint full time and receive collectors privately to view her latest work. Plein air and direct painting remain critically important, rewarding and transformative to her process. The plein air invitationals in Berlin, Borrego Springs, Sedona and Grand Canyon are enjoyable highlights. Margaret has been a member of the Red Rock Pastel Society since 2020 and her work got noted with various awards during our annual member exhibitions.
You can find her on Instagram @larlham
Corey Pitkin, PSA, IAPS/MC

Corey Pitkin's work is an exploration of ephemeral beauty expressed simply and genuinely. Using old master-esque muted colors complimented with subtle edgework his pieces shift and glimmer yet maintain their precision. His subjects are memories that slip away when you try to hold onto them for more than a moment. A predominantly self-taught artist, Pitkin's award winning work has been featured in The Pastel Journal, Art Renewal Center, Portrait Society of America, Pratique des Arts Magazine, and International Artist Magazine, and is held in collections across the world. He is a Signature Member of the Pastel Society of America where he also serves on the Board of Governors. He has achieved Master Circle status with the International Association of Pastel Societies and assists with their technology needs. Pitkin teaches frequently online and regularly travels for in-person workshops. He currently resides in upstate New York with his wife Esther and children Anastasia and Xavier.


You can find him on Instagram @coreypitkin



Halla Shafey, PSA, IAPS/MC


Halla Shafey is an international multiple award winning Egyptian pastel artist, educator and juror. Halla has received 18 international awards and recognitions since becoming a full-time artist in 2012. Her abstract works have been featured in international publications including the Pastel Journal, Pratique Des Arts, Artists and illustrators Magazine, the Globe and Pastel World. A major book published in Egypt in 2022 includes her works and biography along with 54 prominent artists. She is a Signature member of the Pastel Society of America and a regular instructor at their Pastel Academy. She is an elected member of the Pastel Society of England and a member of the Master Circle of the International Association of Pastel Societies (IAPS). Her works have been acquired by the Museum of Modern Art in Egypt and by private and corporate collectors around the world.


You can find her on Instagram @hallashafey
Additional Notification Information
Notifications will be emailed by the end of the day on August 15, 2023. We cannot respond to inquiries regarding the status of notifications before then.
Please add [email protected] to your email safe senders list.
After notifications are sent, you may view the status of your entry in your ShowSubmit artist account's Entry History. Accepted works will be notated by a green check.

If you do not receive your email, you may also view your notification letter using the View Notification link in your Entry History.

Note: Entries made prior to 2023 may not display the View Notification link.
Image and Filename Specifications
You do not need to resize or rename your image files.
Submit your original JPEG image files.
Crop out all parts of the photo that are not the actual work; do not show mat, frame, etc, only the work itself.
Image files are automatically resized to 300 dpi and 1500 pixels on the longest edge.
Image files are automatically renamed using your last name, first initial and the title of the work. e.g. Hamby_D_BeautifulDay.jpg
Additional Entry Information
You will pay for your entry by credit or debit card using our secure checkout system.
After your entry is submitted and paid for, you may log back in to review your entry, edit artist and image information, and add or substitute images up until the entry deadline (August 3, 2023.)
Entry fees are not refundable and must be submitted and paid by the entry deadline.
Entries cannot be accepted or changed after the deadline. Incomplete entries will be disqualified.
Support
For questions about the entry process or this website please contact ShowSubmit Support at [email protected]. We will get back to you between 9am and 6pm Eastern Time, Monday to Friday. You can also view the Support Center, Entry Guide, or our FAQ.