Piedmont Pastel Society
Members Only Online Juried Show
Deadline was

October 12th
Members Only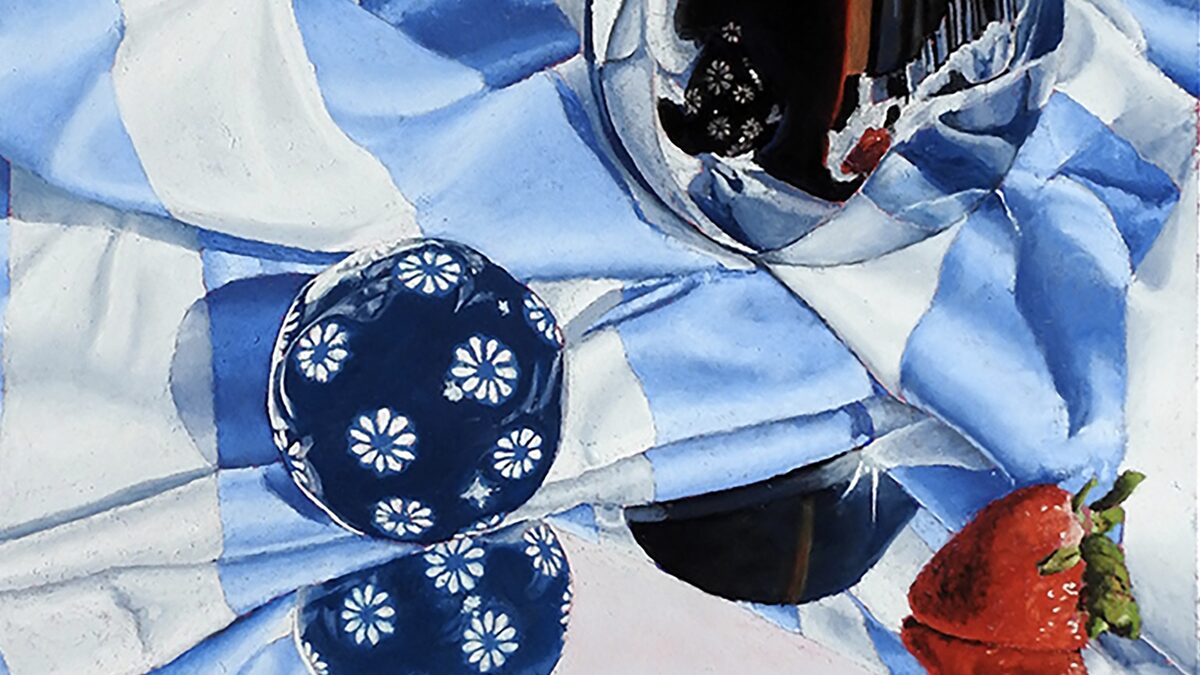 Sphere with Black Vase by BF Reed
Deadline for entry was

October 12, 2023
Juror/Judge of Selection
Terrilynn Dubreuil
Entry Fees
Up to four entries can be submitted by each active PPS member.
Guaranteed acceptance of at least one painting, with a maximum of two accepted.
$25 for two entries
$10 for each additional entry up to four
Awards
First Place $400
Second Place $300
Third Place $200
Piedmont Award $200
(awarded to a member living within 200 miles of the Piedmont Triad area.)
PS of Cape Cod Award $150
PSNC Award $150
4 Honorable Mentions $50/each
Jack Richeson Pastel Set Awards
($175 value) for
Best Landscape
Best Still Life
Best Portrait/Figurative
Exhibition Requirements
Eligibility


Open to all active members of PPS.
Active membership constitutes those with fully paid dues prior to October 1, 2023.
Members must provide a US mailing address.
Medium


Soft and/or hard pastel on any surface.
Underpainting is permissible, but the top layer of artwork must be a minimum of 80% pastel.
Oil Pastels will not be accepted.
Subject Matter


The PPS Exhibition committee reserves the right to reject work deemed unsuitable for exhibition online.
Artwork Size


There are no size restrictions.
Originality


All work presented must be original.
No images from published or internet photographs – another photographer's reference material may be used if granted permission in writing.
Compositions should not be based on another artist's work.
Paintings executed in a workshop or class under another artist's supervision are not eligible.
Entries that have been shown in previous shows in NC are not allowed.
Paintings must have been completed in the last 3 years.
Entries that have won previous awards, including Honorable Mention, in any IAPS Member society show are not allowed.
Sales
Work may be for sale; NFS is allowed.

Upon request, potential buyers will be informed of artists' contact information to inquire about purchasing a painting. Artists are encouraged to promote and sell artwork via website or social media. A voluntary donation to PPS of 20% commission from a sale resulting from the show is encouraged.
Juror/Judge of Selection
Terrilynn Dubreuil
Travel and art share a life-enriching and creative partnership in this artist's life. She has a passion for exploring new places throughout the world and creating original art with a focus on pastel painting, but also uses watercolor, photography, and other media. Color, light, and texture convey a balance between impressionism and realism.

Augmenting a Bachelor of Fine Arts degree, she has studied Master level courses and pursued opportunities to expand personal knowledge and creative resources. She has been teaching various media and techniques for thirty-five years, including many Pastel Societies, the Asheville Art Museum and other studios. She's a founding member of the International Pastel Teacher's group: PATIO.

Terrilynn is a Signature Member of the Pastel Society of America (PSA), an active member and volunteer of the International Association of Pastel Societies (IAPS), Signature and Vice President of the Pastel Society of Maine (PSME) and the Appalachian Pastel Society (APS), and various other international organizations. She exhibits and sells artwork in diverse venues, has received multiple top awards at juried International Shows. To date the artist has traveled or lived in fourteen countries, speaks 3 languages, and lives in Asheville, NC. She presents demos, mentorships, and fine art instruction through her PATREON, YouTube Channel and other venues.
Questions
If there are questions about the exhibition or this prospectus, please contact the Online Show Chair, Kathy Pruett at
[email protected]
. For questions about the ShowSubmit system, see the Support section below.
Additional Notification Information
Notifications will be emailed by the end of the day on October 20, 2023. We cannot respond to inquiries regarding the status of notifications before then.
Please add [email protected] to your email safe senders list.
After notifications are sent, you may view the status of your entry in your ShowSubmit artist account's Entry History. Accepted works will be notated by a green check.

If you do not receive your email, you may also view your notification letter using the View Notification link in your Entry History.

Note: Entries made prior to 2023 may not display the View Notification link.
Image and Filename Specifications
You do not need to resize or rename your image files.
Submit your original JPEG image files.
Crop out all parts of the photo that are not the actual work; do not show mat, frame, etc, only the work itself.
Image files are automatically resized to 300 dpi and 1500 pixels on the longest edge.
Image files are automatically renamed using your last name, first initial and the title of the work. e.g. Hamby_D_BeautifulDay.jpg
Additional Entry Information
You will pay for your entry by credit or debit card using our secure checkout system.
After your entry is submitted and paid for, you may log back in to review your entry, edit artist and image information, and add or substitute images up until the entry deadline (October 12, 2023.)
Entry fees are not refundable and must be submitted and paid by the entry deadline.
Entries cannot be accepted or changed after the deadline. Incomplete entries will be disqualified.
Support
For questions about the entry process or this website please contact ShowSubmit Support at [email protected]. We will get back to you between 9am and 6pm Eastern Time, Monday to Friday. You can also view the Support Center, Entry Guide, or our FAQ.